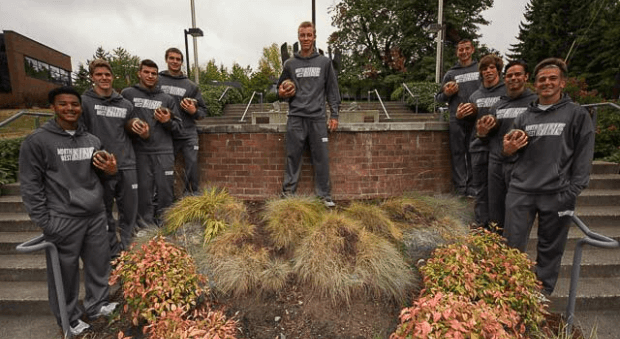 Before I get started, I want to give thanks to the people that helped us put this great event on.
Anne Kuchera and Gunner Wagoner of Northwest University went above and beyond to accommodate us with everything we need. They put up with a few tough requests and 26 high school aged boys for four days, and came through time and time again.
Rick May Photography was on hand the last two days to take pictures for us, and from what I have seen thus far, they look to be great shots. They will be up sometime soon, just keep an eye on the site and I will direct you to them. You can also follow him on Twitter @RickMayPhotos .
Last, but certainly not least, Cedar Park Christian head coach Bill Marsh. From the start of planning, all the way through the event, Bill has been instrumental in every phase. Most importantly, Bill did so with a willingness to do little things, like spray painting the field so it was ready to use.
Below is a breakdown on the Final 9, as well as a mentions of WR/DB's that made Friday night's 7-on-7. The lists are the athletes to stood out to me, and not everyone in attendance.
Apologies with the delay on this article, recovery from an exhausting event took longer than I expected, but at last, I did get some sleep.
The Northwest 9
The Final nine was a very tough decision. There were a few athletes that literally were one missed throw away from getting one of the last few spots.
At the end of the day, the toughest decision may have been at the top.
Jacob Sirmon ('18 Bothell) would end up being the Overall MVP, and was more than deserving, but Blake Gregory ('16 Skyline) did not make it easy on him. The Kingco counterparts battled head-to-head throughout the event, and really the final decision could have gone either way.
If there was a "next tier" in the final standings, Davis Alexander ('16 Gig Harbor) was there by himself. Alexander was one of the most consistent performers from start to finish, and showed good leadership throughout the event.
After Alexander, you really couldn't go wrong with either Justus Rogers ('16 Bellevue) or Tavin Montgomery ('16 Juanita). Both showed consistent improvement from Wednesday on, and were two of the top athletes in the testing portion.
Montana commit Gresch Jensen ('16 Auburn Mountainview) did a tremendous job from day one, and shined during the 7-on-7 and one-on-one portions. Jensen is primed for a big season, and finished his offseason as strong as you could imagine.
It was obvious from the start Dylan Morris ('19 Graham-Kapowsin) was one of the top QB's in attendance. While he struggled a little bit in Thursday's night session, he quickly made up for it with a great Friday. At the end of the day, Morris did enough on the field and classroom to get the job done.
Neither Wyatt Hutchinson ('16 Clackamas) or Nathan West ('16 O'Dea) had been in the standings until the last day. Both athletes got better as the event went along and were truly deserving of their selection. With the final 7-on-7 being heavily weighted towards the committees decision, these two stepped up and took away spots from athletes that made minor mistakes.
Kyle Mozzone ('16 Fife) and Hunter Wendling ('18 Stadium) will openly admit they did not throw the ball well in the first session on Wednesday. You could see both athletes take it personally, making a decision to not allow it to happen again. They worked hard, studies their playbooks and ended up taking home Most Improved Awards.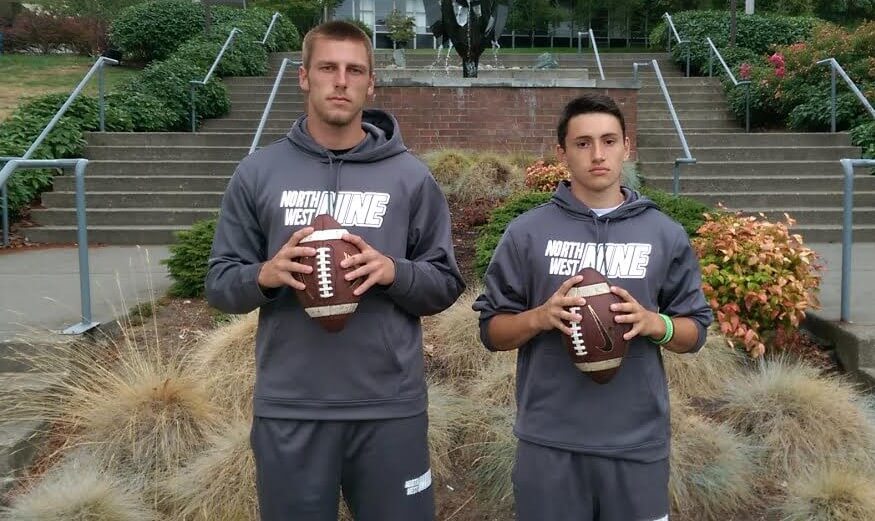 WR/DB Breakdown
Ki'Jan Weisinger ('16 Auburn Mountainview) and Noah Samsen ('16 Gig Harbor) both made a big impression. Weisinger has had a tremendous offseason and continues to made big strides towards what could be a big senior year. Samsen is a player we have gotten to know over a few years, and I thought Friday was one of his best days. Both athletes have good speed, hands and a great understanding of the position.
For the second straight day, I would give Kale Wong ('16 Gig Harbor) my defensive MVP. I am not sure how many INT/PBU's he had over the two days, but any time there was a big play, Wong was involved or right there to make the play if his teammate didn't.
Gotta give a lot of credit to Bryce Bumgardner ('16 St. Helens). Not only is it about a three hour drive for Bumgardner, but he was fresh off a trip to Carroll College in Montana for a recruiting visit, where he would be an absolute steal for the Fighting Saints. He has good speed, hands and a mindset that he is going to catch every ball.
Speaking of a long drive, nobody came from further away than John Lesser ('16 Liberty Christian). The senior to be lives in Richland, about three-and-a-half hours away, but knows the value in getting in front of media because at the 1B level, he doesn't get much exposure. Make no mistake, Lesser can play, and he showed it once again at the NW9. He looks great as a slot receiver and can even make plays out of the backfield. The "athlete" category was made for guys like John Lesser.
I thought Joe Nelson ('17 Issaquah) had a really strong showing. Nelson shows good speed and overall athleticism, to go with good hands and crisp route running. He has plenty of room to grow on his frame and is a name you'll want to know going forward.
Another good day from Kyle Olson-Urbon ('16 Gig Harbor) and Donovan Sellgren ('16 Arlington). Both athletes run nice routes with good speed, hands and a good work ethic. You can add Tyrus Tuiasosopo ('16 Issaquah) to the list of athletes performing well again. He continues to impress me, and I truly believe his best days are ahead of him.
Teammates Zack Sibley ('16), Darren Sroor ('16) and Ross Sherrer ('17) of North Thurston High School made a long drive to the NW9 a beneficial one by performing very well. Sibley looked good on both sides of the ball, but really stood out as the one high safety, doing a great job getting sideline-to-sideline. Sroor has a great frame at 6-foot-5 and about 200 pounds, and did a great job using his size to create space and make himself available. Sherrer showed the best speed of the bunch and is a solid two-way player, doing his best damage in the slot offensively.
Dylan Bacher ('16) and DJ Mann ('16) made the jog down the road from Lake Washington High School and both performed very well. Each showed good athleticism and appear to have good instincts and a high football IQ. We will be keeping tabs on both athletes this coming season.