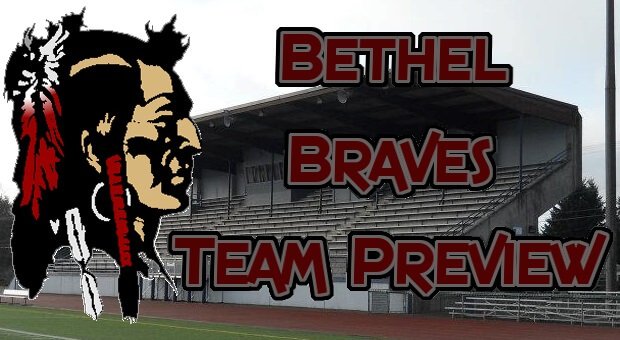 Five Key Players
OL/DL Ezra Cleveland (6'6″ 295, '16) – In June, Cleveland turned down multiple Pac-12 offers and chose to commit to Boise State. Cleveland is coming off a junior season in which he earned first team All-SPSL on both sides of the ball. He has great length and a mean mentality that sets the tone for the Braves.
QB Bryce Missey (6'0″ 190, '16) – Missey is fresh off an appearance at the Northwest 9, where he just barely missed being a part of the final group. Missey is a returning started, with a good arm and great understanding of the offense. Writing is on the wall for Missey to have a breakout season.
WR Elijah McLeod (6'2″ 200, '16) – McLeod might be the state's most under-the-radar WR. He has a really nice frame and is the leader of the WR corps. McLeod shows great all-around athleticism, and has the look of a D1 receiver.
LB Ian Davidson (5'11" 190, '16) – Davidson is considered the heart and soul of the Bethel Defense. He plays fast and is probably the hardest hitting defender, but most importantly, he play smart. If the Bethel defense is going to improve this season, Davidson will be a big reason why.
OL Max Marion (6'2″ 240, '16) – While Cleveland is the top talent along the lines, Marion is really the anchor of the offense. He plays with great intensity and might be the most athletic lineman on the roster, doing a great job getting to the second level.
Overview
In his first year at the helm, head coach Mark Iddins did a great job stabilizing a ship that was on the verge of sinking. Bethel was coming off back-to-back 3-7 seasons, but Iddins and his staff got them back into the playoffs in their first year.
This season, expectations may be a little higher. The Braves return six starters on offense, seven on defense, and a plethora of former depth players step into starting roles after seeing significant playing time a year ago.
The key to the offensive attack starts at quarterback. Bryce Missey returns after a strong junior campaign in which he did share some snaps with Jamon Jones (Univ. of Washington), who was more the Wildcat type QB, but the offense now belongs to Missey.
Missey will have plenty of places to distribute the ball, as the Braves have one of the better WR corps in the state. Everything starts with Elijah McLeod, but Collin White (6'0″ 185, '17) may be the most polished of the bunch, and is coming off a second team All-SPSL sophomore season.
Jarrell Anderson (6'4″ 200, '18) is a big body on the outside, and one of the top WR's in the 2018 recruiting class. Anderson does a good job using his size to create space, and doesn't mind mixing it up in the run game. Time will tell, but I would say he is one to keep an eye on over the next few years.
The runningback duties look to be handed over to Matt Booth (5'10" 175, '16). He is one of the better all-around athletes on the team, and started last year at CB.
Up front the Braves have some real beef. They return what amounts to four starters, although one was not full-time. Center Max Marion is the only returning starter that returns to the same spot he played last season, and that may be a good thing for a team looking to become tougher up front.
Ezra Cleveland will slide into LG after playing at LT last year. Taking his spot at LT will be Dakaline White (6'1" 235, '16), who started last season at RT, and has some of the best technique on the roster. Starting at RT for White will be Byron Willis (6'3″ 260, '17), who saw time last year at LT when Cleveland missed some time.
RG is the only spot up for grabs, and it is a two man competition between Mikel Cox (6'3″ 280 '16) and Avyion Fisher (6'2″ 250, '16). Both athletes are very capable starters and it should be a good competition.
Cleveland and Fisher also start on the defensive line, and are joined by Lucas Olson (6'0″ 210, '17), who is described as a strong and relentless pass rusher. You can also expect to see some of Byron Willis when the situation dictates.
Linebacker is where the Braves will really make an impact. While they do lose first team All-SPSL member Eli Teuteu to graduation, Ian Davidson and Seth Smith ('17) return following Honorable Mention seasons in 2014, while Matt Booth will move from CB to a LB spot.
Also stepping in at LB will be Dante Springsteen ('17) who has a nose for the ball and plays fast. Josh Thompson ('16) and Ben Johnson ('18) add depth to a very good LB corp, that looks to be one of the best in the area.
The defensive backfield has experience, speed and general nastiness that should be exciting to watch. FS Lane Brown (5'10" 160, '16) returns after a second team All-SPSL season of a year ago, and is generally considered to be the leader of the secondary.
Zach Neigel (5'10" 160), Honorable Mention last year, returns at one CB spot, while Jon Taimanglo ('16) returns at the other. Both athletes have good speed and instincts that make them a tough matchup. Stepping in at Strong Safety is Machiah Lee ('18), who shows great all-around athleticism with a hit first mentality.
Bottom Line: While I do think the favorite in the SPSL South is GK, Bethel has enough talent and experience to win the League. I think Mark Iddins is one of the great young minds in the State of Washington, and has his team ready for a nice run this season. End of the day, I think Bethel could finish anywhere from first to fourth in the SPSL South, but they absolutely should be a team you see in the playoffs.
Key Games
vs Graham-Kapowsin (10/30)
vs Curtis (10/16)
@ Emerald Ridge (10/9)