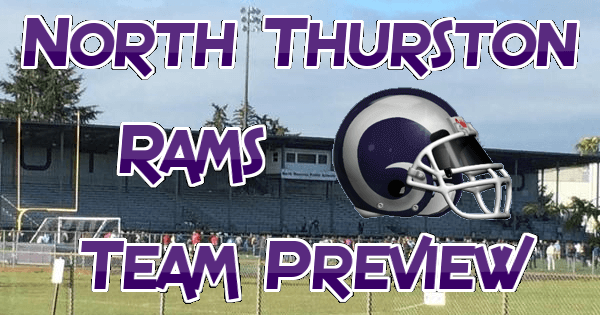 Key Players
QB Jake Harn (6'2, 165, '16) – Harn started every game last season and got some valuable experience. He's a great fit in North Thurston's pro-style attack. Harn completed less than 50% of his passes as a junior last year, so that definitely needs to improve, but he's got the size and experience to have a breakout season this fall.
WR/DB Zack Sibley (6'1, 190, '16) – Should be a real leader for the Rams both from his receiver and safety. Great ball skills. Could be an All-league type at both spots if he has progressed like the coaches think he has over the offseason.
ATH Ross Sherrer (5'9, 155, '17) – Sherrer is one of the most versatile players on the team. The coaches expect the rising junior to play all over the field, including running back, slot receiver, wide receiver, punt and kick returner, safety, outside linebacker and corner.
LB Ryan Burgman (6'0, 192, '17) – Outstanding linebacker who will lead the Rams' defense, both emotionally and also making sure they are lined up correctly. Burgman will also wind up playing some offensive line as well, but he's a difference-maker at middle linebacker.
TE/DL Darren Sroor (6'5, 195, '16) – College coaches have their eyes on Sroor and with a big senior campaign he could have some opportunities at the next level. The coaches will use him quite a bit in the redzone and think he could have double-digit touchdowns as a senior this season.
Overview
If you are looking for a team who could be a real spoiler in the Narrows 3A this fall, look no further than North Thurston who returns a lot of talent, but needs to find some consistency from the quarterback position to really take the team to the next level.
QB Jake Harn (6'2, 165) returns for his senior season after an up-and-down junior campaign that saw him throw for just over 900 yards with 12 touchdowns and three interceptions. The biggest concern with Harn was his accuracy as he hit on less than 50% of his passes last season. If he can cut down on some of his mistakes and be more accurate, he could be the missing piece to an offense with a lot of playmakers at the "skill" positions.
Last season, Dante Thomas and Josh Mosquera, two seniors, led the way for the Rams' rushing attack, totaling nearly 1,700 yards and 18 touchdowns as a combo.
This fall, the Rams will be looking to senior Anthony Salazar (6'0, 205) a bruising runner who will be the "big back" while junior Ross Sherrer (5'9, 155) is more of the scat-back who will be moved around the offense and will be used in multiple roles.
North Thurston's coaches are excited about the return of the top wide receiver combination in the South Sound this fall as senior wideouts Zack Sibley (6'1, 190) and Brandon Morgan (6'3, 180) led the team with 42 receptions for over 700 yards and seven scores last season.
The passing game will also feature the exploits of senior tight end Darren Sroor (6'5, 195) who could wind up being one of the breakout stars for the Rams this fall with his outstanding catch radius and strong hands.
Heading into the season, the biggest question-mark on the team is the offensive line, but they have a lot of size and they are led by tackle Peter Veis (6'3, 265) and center Zeb Daugherty (6'2, 270), both seniors who are returning starters.
On defense, like the offense, the questions come up front. There are a handful of players who will see plenty of playing time including Sroor, Salazar and seniors Michael Crook (6'0, 240) and Aaron Kioshi (5'11, 230). Keep an eye on junior Anthony Rybalkin (6'4, 175) who the coaches like quite a bit, but who hasn't played a lot of football yet.
Burgman leads the way in the middle of the Rams' defense and he'll be flanked by a host of players including senior Gavin Utley (6'1, 170). Two underclassmen — junior Ryan Field (6'1, 200) and sophomore Zion Kirk (5'8, 173) — are players the coaches are high on, but neither has played at the varsity level.
Sibley is the only sure-fire starter in the secondary and the coaches think he's an All-Narrows type, however, the other three positions are up for grabs.
Junior K/P Wesley Krall (5'10, 180) has a strong leg and the coaches think he can be the latest in a long line of solid North Thurston specialists.
Bottom Line: If head coach Rocky Patchin and his staff and figure out things along both the offensive and defensive line and they get consistent play from Harn at the quarterback spot, the Rams could find their way into the upper tier of the Narrows 3A rankings. However, with those questions still hanging over the team as we head into fall camp, it's really tough to make the call other than the say that North Thurston will make things pretty tough on all of their opponents this fall with their size and the playmakers at the "skill" positions.
Key Games
@ Wilson (9/18)
Vs. Lincoln (10/9)
@ Capital (10/23)