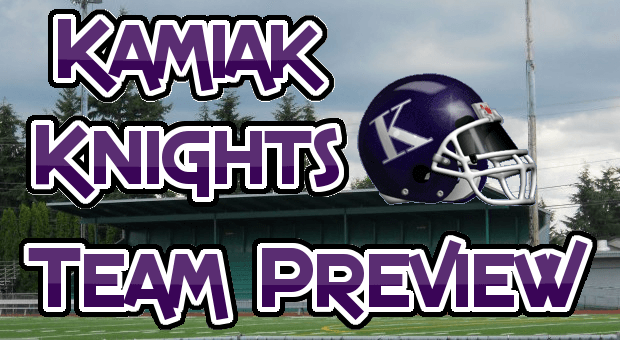 Five Key Players
QB Connor Alexander (6'2, 175, '16) – Alexander has patiently waited his turn to take over the Knights' offense and as a senior, he'll get his shot. He's poised, he's got a good arm and he has full control of the offense. Alexander has a number of targets to throw to, so he should be able to put up some big numbers and, if he lives up to expectations, he could see some opportunities to play in college.
OL/DL Matt Morton (6'1, 260, '16) – Morton is one of the team captains and a player Kamiak relies on to be a leader on both sides of the ball. Morton is big and physical and should garner All-WESCO 4A honors by the end of the season.
OL/LB William Jones (6'0, 200) – While he's on the small side, there may not be a more valuable player than Jones as he's a key contributor along the offensive line and at linebacker. Jones is another team captain that the Knights look to for leadership.
TE/DB Nate Shubert (6'4, 195, '16) – We have liked Shubert since his sophomore season and he's only gotten better over the past two years. Shubert is one of the most athletic players in WESCO and he's a player the Kamiak coaches will target quite a bit on offense this fall. Shubert has been getting attention from lots of college coaches and he should have plenty of offers to choose from come February when he needs to decide where he wants to play for the next four or five years.
DB/WR Taylor Heck (5'7, 170) – Heck will be a starter in the secondary while working into the receiver rotation. He's a very good athlete with a nose for the ball. He runs really well and he's another captain whose leadership skills will be invaluable this fall.
Overview
If you want to see how to successfully build a program that is a solid contender every season, look no further than Mukilteo where head coach Dan Mack has made Kamiak into one of the most underrated programs in the state.
While they have had their fair share of college level athletes come through the program, Mack and his staff lean heavily on a solid team that doesn't have a lot of star power, but is one that comes out and plays a tough and physical brand of football.
Senior Connor Alexander (6'2, 175) probably has one of the toughest tasks this fall, replacing Tyler Becker who will be a quarterback at Saddleback College this fall.
Alexander is a very good athlete, but he makes most of his plays from inside the pocket where his above-average arm and ability to read defenses give him some definitely advantages.
The tailback position is a bit of a mystery at this point. Jojo Binda put up huge numbers in the backfield that past two seasons, so his graduation leaves a bit of a hole in the offense. However, Mack is bullish on the abilities of junior Alex Indelicato (5'8, 165) and Binda's younger brother, Josh (5'9, 170) a sophomore who may wind up being even better than his older sibling.
Senior Nate Shubert (6'4, 195) might be one of the most intriguing offensive weapons in the state. He's got long arms, the ability to separate and he's very athletic. The Kamiak coaches will figure out different ways to get the ball into his hands and you can expect him to put up some big totals on offense this fall.
Mack and his staff really like senior Donte Hamilton (6'1, 205) at one of the receiver spots and he'll be joined by another senior, Brock Merkley (5'11, 180), and junior Raul Zarate (5'8, 170) to make a diverse and athletic group of targets for Alexander when he drops back.
Along the offensive line, Kamiak has a great group of returning starters to lean on in seniors William Jones (6'0, 200) Matt Morton (6'1, 260) and juniors Tanner Kunard (5'9, 205) and Oliver Diltz (6'0, 300).
The defensive line will rely on senior defensive end Mason Louchs (6'0, 200) to get pressure and provide leadership to a young group of players.
Junior Isaiah Shigematsu (5'9, 180) leads the way at linebacker while Hamilton figures in at both linebacker or safety, depending on what scheme the Knights are on.
Heck locks down one side of the field from his corner spot while Shubert will move from defensive line to safety after the coaches tried him there this spring with outstanding results.
The Bottom Line: Mack has been at Kamiak for quite some time and he's built a very solid program. Because he's looking to replace so much of the offense, it will be interesting to see how that goes, but make no mistake, when you play the Knights, you had better bring your 'A' game. With WESCO 4A being so tough this season, they may struggle to make the state playoffs, but do not rule them out of the running if Alexander is able to fill the void left by Becker.
Key Games
Vs. Marysville-Pilchuck (9/4)
@ Lake Stevens (10/23)
Vs. Cascade (10/30)