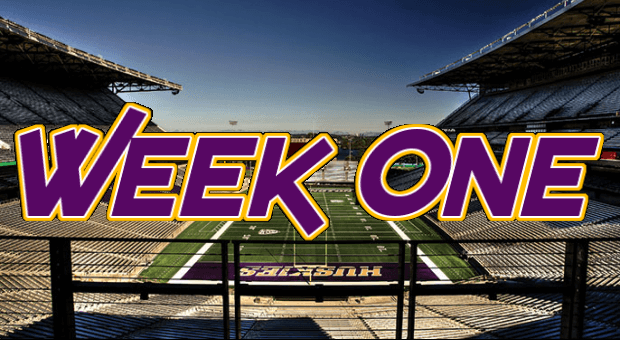 My Schedule
Thursday – Mount Si Wildcats @ Woodinville Falcons – Pop Keeney 7:00pm
Friday – Inglemoor Vikings @ Juanita Rebels – Bergh Field 7:00pm
Saturday – Sehome Mariners vs Cascade Christian Cougars – Husky Stadium 10:00am
Saturday – Olympia Bears vs Ferris Saxsons – Husky Stadium 1:00pm
Saturday – Auburn Trojans vs Mountain View Thunder – Husky Stadium 4:00pm
Saturday – Bellarmine Prep Lions vs Bonney Lake Panthers – Husky Stadium 7:00pm
Thursday's Top Games
I make no bones about Pop Keeney Stadium in Bothell being my favorite place to watch a game in the state, and I can't remember the last time I started a season somewhere else.
That being said, Mount Si @ Woodinville looks to be a solid matchup week one, and the game will be live on Root Sports.
Having Parker Dumas ('16) and Colton Swain ('16) as targets would give any QB a reason to smile. Both stand over 6'4″ and are two of the better receiving options in the state.
Cory Cotto ('16) is one of the more underrated two-way players in the state. He is one of the state's better LB's with a nose for the ball, and a tough RB with deceptive speed. Two DB's I will be keeping a close eye on are Mark Farmer ('16) and Max Bonda ('17). I've seen both previously and liked what I have seen thus far.
For Woodinville, QB Nick Fouch ('16) rushed for over 100 yards in this game last year, but will need to be better in the passing game for the Falcons to succeed. Dylan Axelson ('16) is one of my favorite LB's in the state, and will have to lead the defense.
Also on Thursday, the Pasco Bulldogs travel to Yakima to take on the AC Davis Pirates. I think the Pasco team is vastly improved and could use this game to help get themselves going. Eric Briscoe ('16) of AC Davis is sitting on offers from UNLV, Syracuse, Colorado State, Cornell and Yale. He has told me he will likely wait until the season is over to make his decision.
Keep an eye on Pasco's Kaleb Ash ('16). He is still awaiting his first offer, but has D1 athleticism and is flying under the radar after missing his junior season due to injury.
Friday's Top Games
As a Juanita alum, I love getting out to Bergh Field to see the Rebels, and love even more the rivalry with Inglemoor.
The Rebels are loaded with talent and it will be interesting to see how new head coach Lele Te'o drives the ship. QB Tavin Montgomery ('16) is primed for a big season, and anytime you have Makiah Gilmer ('16) and Salvon Ahmed ('16) running with you, things are good.
For Inglemoor, there is one player I am especially excited to see. Jalen Woodley ('17) impressed me in the little action I saw last season. He is listed at 6'2″ 195 and looks a lot like former Eastlake RB/LB Drew Lewis.
Mercer Island travels to Bishop Blanchet this week, as the Braves have finally installed lights at Mickey Nash Field. RB Oshea Trujillo needs just 3 TD's to break former UW great Joe Steele's career record at Blanchet, and could do it in this game. I will be keeping an eye on Mercer Island WR Eric Kim throughout the year, as he could be in line for a big season. Kim is a big-athletic target and is very much under-the-radar.
Camas and Chiawana meet for the third straight season. The teams have split the first two meetings, although I think Chiawana is more than happy winning the one they did. QB Liam Fitzgerald ('16) leads the Papermaker offense and I am expecting big things this season, as he has some really nice targets to throw to, including WR Jared Bentley ('16) and TE Blake Roy ('16). Chiawana will be led defensively by LB Caleb Weber ('17), who is likely the state's top backer in his class. This should be a great game.
Gonzaga Prep starts the season on the road at Richland, a team I think could surprise some people this season. Evan Weaver (Cal Commit) is one of the state's top sack masters, while Richland's Dontae Powell ('17) is one of the state's top OL. Powell is highly underrated, and really not known on the western side of the state, but he has already been offered by Washington State.
Still seems weird to me that Issaquah and Skyline are meeting week one, but what a great way to start the season. Rashaad Boddie, Blake Gregory and company have Skyline ranked #4 this season, and a matchup against rival Issaquah should be an early test to see exactly where they stack up.
This will be the third time Eastlake and Bothell have met in the last year, as the Cougars ousted the Wolves on way to a state title. Highly touted QB Jacob Sirmon starts his sophomore season with big shoes to fill, but has had a tremendous offseason in preparation. If there is one thing I know about Eastlake, it is that HC Don Bartel will have his defense ready to go, and they will do everything they can to make Sirmon uncomfortable. Should be a great opening week in Kingco Football.
The annual Fish Bowl between Gig Harbor and Peninsula is this week, and while the Tides are ranked #1 in 4A, this is a rivalry game and they will definitely not take the Seahawks lightly. Davis Alexander and company have their sights set on a state championship, but know each week is another test along the way. RB Adrian Valona put up big numbers against Peninsula in last year's come-from-behind win, and will look to do so again tomorrow night.
Federal Way's D'Jimon Jones ('16) committed to WSU a few months back, and will do a little bit of everything for the Eagles, and will have to if they want to offset the loss of Chico McClatcher (Washington). Union picked up a transfer RB in Rey Green, who has D1 offers and should fit what Union likes to do offensively. Both teams should be good, and this game will tell us a lot about the season ahead.
The Wenatchee Panthers break in their new turf by hosting Mead. The Panthers have graduated some high caliber athletes the last two seasons, so it will be interesting to see how more inexperienced athletes step up. Mead has been down the last few years, but always come in with plenty of athletes. This game should be a telling opening chapter for both teams.
Veterans Memorial Stadium in Snohomish will be absolutely packed this week as the two local squads meet up in a non-league game. Glacier Peak and Snohomish do not like each other, and it should result in a physical game. The Panthers are vastly improved on the team we have known the last few years, while Glacier Peak is once again in the top ten and are my favorite in the 3A South division.
Many people are picking Mount Spokane to win the GSL 3A again this season. They graduated 14 starters from last season's semi final team, but head coach Terry Cloer will have his boys ready to go against West Valley, who loses some high caliber players of their own, including Shane Lemieux (Oregon).
Hoquiam QB Bubba Dick ('17) is an athlete I will be keeping a close eye on this year, and has a tough early test as he and the Grizzlies travel all the way up to Meridian to take on the always-tough Trojans and head legendary coach Bob Ames.
Saturday's Top Games
I would pick Battle Ground @ Kent-Meridian as Satuday's top game. The high powered Tiger offense rolls into French Field with a little something to prove after last year's loss. Kent-Meridian is a team I will be keeping a close eye on this season. They have a plethora of talent, and could really surprise some people.
It will be a battle of big as Korbin Sorensen ('16) and the Kamiakin Braves make a long drive to lock horns with Nick Bartel ('16) and Chris Hernandez ('16) of Ferndale. This game should be a great test for both teams, and they each have big playoff aspirations this season.
Highly ranked Lincoln of Tacoma makes their debut with Roosevelt of Portland. The Abes currently sit at #3 in the 3A classification, and are looking to make an early statement against a Roosevelt team they hammered 48-9 just a year ago.
It will be nice to be back at Husky Stadium for the Emerald City Kickoff. Last year was at Memorial Stadium in Seattle, so I had a mini-boycott and did not attend.
The opening game pits the Sehome Mariners (Bellingham) and defending 1A champ, the Cascade Christian Cougars. Taylor Rapp (UW Commit) looks to lead the Mariners behind a big offensive line, while Josh Seaton ('16) looks to lead a Cougars squad that lost a lot of talent to graduation.
At 1PM there may be a bit of an issue, as the Ferris Saxons might not be able to play. The Spokane School District teachers are likely going to strike, which could affect a number of games, including this one. Not sure if the WIAA has a backup plan, but this could lead to a break in the action.
Following that, the Auburn Trojans will take on the Mountain View (Vancouver) Thunder. I will be keeping a close eye on MV's Christopher Mitchell ('16). He is one of the better lineman in the state, and already has an offer from Air Force.
The nightcap features one of the state's top 4A programs, the Bellarmine Prep Lions and the Bonney Lake Panthers. I am excited to see lineman Paul Gicewicz ('16) and Nico Xitco ('17) from B-Prep, as they are two of the better lineman in the state.
Another game that may be affected by the Spokane teachers is the Lakeside @ Shadle Park game. It would've make sense for Lakeside to just slide into the place vacated by Ferris at Husky Stadium, but I don't see that happening.