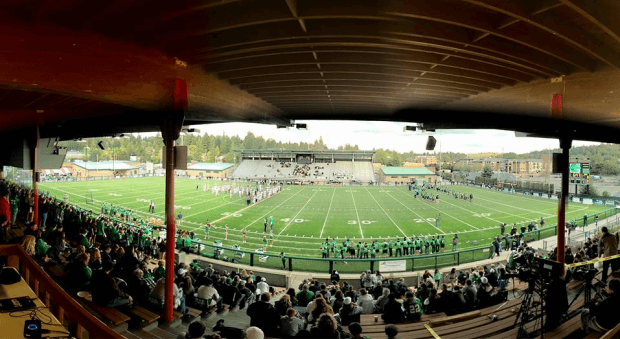 Freshman Reed Paradissis kicked a game-winning 25 yard FG with 5:11 remaining, as the Mount Si Wildcats slipped past the Woodinville Falcons 13-12 on Thursday night.
While it may not have been the prettiest game in Mount Si history, they did come away with a crucial Kingco Conference win and start the season 1-0.
"We weren't necessarily clicking on all cylinders," Wildcat QB Harrison Danna said. "But out defense stepped up, was resilient and came up big, and our offense was able to make the big plays when we needed it."
Paradissis opened the scoring with 38 yard FG, giving Mount Si a 3-0 lead they would hold through the first quarter.
Woodinville followed up by going on a 15-play, 68-yard scoring drive, capped off by a 1-yard Dylan Axelson ('16) touchdown run, with 9:33 left in the second quarter. Mount Si blocked the PAT, leaving the score at 6-3.
Mount Si wasted no time and responded with a 10-play, 74-yard scoring drive. Quarterback Harrison Danna ('16) threw a perfect jump ball to Parker Dumas ('16) to finish the drive, giving Mount Si a 10-6 lead.
The 6-foot-5, 200 pound Dumas finished the night with 8 catches for 86 yards and the lone TD, all coming in the first half.
Jack Weidenbach ('17) of Mount Si, and Dylan Axelson ('16) from Woodinville, would intercept passes on back-to-back drives to bring the first half to a close.
A scoreless third quarter was filled with mistakes on both sides and saw just one significant play, an interception by Woodinville DB Payton Chester ('17).
Woodinville took the lead back with 9:08 left in the fourth quarter when Jake Kim ('17) plowed in from four yards out. Kim was the fourth Falcon to carry the ball on the drive, as Woodinville scored on a quick 74-yard drive, including a 31 yard scamper by Axelson.
Unfortunately for the Falcons, they couldn't handle what would later turn out to be a crucial snap on the PAT, leaving the score at 12-10.
The Woodinville defense quickly forced a three-and-out, but a mishandled punt return was recovered by Mount Si long snapper Caleb Mitchell, giving the Wildcats the ball in Falcon territory.
A steady diet of Cory Cotto ('16) and Max Bonda ('17) brought the Wildcats down to the 8-yardline where they would line-up for the eventual game winning FG.
Analysis and Notes:
– Cory Cotto had a fantastic all-around game. We had him at 15 tackles and 10 carries for 53 yards. Cotto was rock solid all night, and especially tough late in the game when Mount Si was milking the clock.
"Cory is reliable and a fallback guy when you need him," Danna noted. "That's why he is one of the top players not just in Kingco, but in the state."
– I was pleasantly surprised with the play of Harrison Danna. In the first half he didn't try to do too much, and faced a little adversity in the middle part of the game with two INT's, but stuck to his guns and made plays when needed. Late in the game, from his own two yardline, Danna found Caleb Mitchell for 62 yards, that would all but ice the game.
"Caleb is one of my best friends," Danna said. "They were shadowing Parker so we went to Caleb and I knew he was going to come down with that ball."
– Mount Si TE/LB Coltan Swain had a nice night. I believe he came away with just one catch, but he played very well on the defensive side and was an impact player all night.
– I loved the play from Woodinville RB/LB Dylan Axelson. What Cotto brought to Mount Si, Axelson brought the same to Woodinville. Axelson projects highest at LB with great instincts and unmatched toughness, but really showed he has the ability to play RB as well.
– The backfield combination of Max Bonda and Cory Cotto looks like a good one for Mount Si. Bonda is more the lightning, with Cotto being the Thunder, but neither athlete is one-dimensional and can play both versions of the position.
– Really liked the play of Woodinville's Duke Clinch (6'3″ 282, '16). He is a solid two-way lineman showing toughness, good feet and nice all-around athleticism for his size. Clinch is a player I will be keeping an eye on the rest of the season.
– Remember the name Jesiah Irish ('18) of Mount Si. He played some quarterback, wide receiver, returned a few kicks, and did so at a very high speed. Irish is also a high caliber baseball player, and could have a very bright future in both sports.