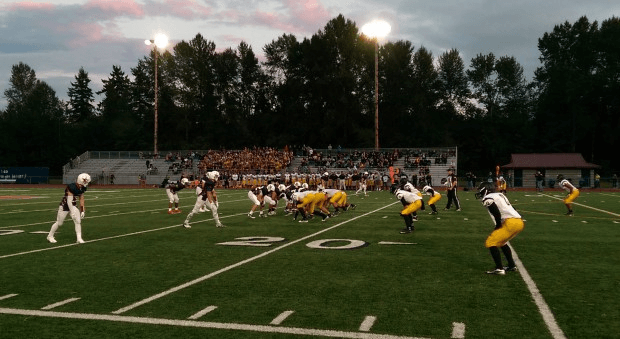 RB Salvon Ahmed ('17) scored five touchdowns in just three quarters, as the host Juanita Rebels hammered rival Inglemoor 59-7 on Friday night at Bergh Field in Kirkland, Washington.
"That was a quiet five touchdowns," Juanita head coach Lele Te'o told NEI. "He's seeing things he hasn't seen before, running through guys, we were able to do things to get him in space. It was unbelievable."
Ahmed, who has offers from half the Pac-12, scored from 55 yards on Juanita's second offensive play, and really set an early tone for the night.
Less than two minutes later the Rebels doubled their lead when Makiah Gilmer ('17) took a punt at his own 40, shot straight through the coverage team and found his way to the end zone.
Inglemoor would quickly respond when RB Jalen Woodley ('17) was hit in the backfield, broke multiple tackles before bouncing it backside and outrunning the Juanita defense 80 yards for the score.
"That was just our kids playing too fast," Te'o said. "We will learn from that and play a little bit slower on the back side and make money."
Juanita's next drive was the A.J. Peacocke ('16) show. Early in the drive, Rebel QB Tavin Montgomery ('16) rolled to his left and found Peacocke behind the Viking defense for a big gain, putting the Rebels inside the red zone. Peacock finished the drive with a four yard run on a fly sweep, and the Rebels had a 21-7 lead.
Things would go from bad to worse for Inglemoor, as they were unable to convert on fourth down from their own 40, after LB G.J. Hurst ('16) and a host of Rebels shot through the gaps and stuffed the ball carrier in the backfield.
It didn't take Juanita long to find the end zone again, as Salvon Ahmed took a handoff and rumbled up the middle for six yards, giving the Rebels a 28-7 lead they would hold through the end of the first quarter.
The Rebels would keep their foot on the gas in the second quarter, as Jackson Clemensen ('16) was successful from 40 yards out, and Salvon Ahmed scored on runs of three and two yards, giving the Rebels a very comfortable 45-7 halftime lead.
Ahmed would notch his fifth score of the night just 2:42 seconds into the second half, and Tavin Montgomery would finish the scoring for the Rebels with a 13 yard improvised run with just under three minutes left in the third quarter.
Analysis and Notes
– First off, I want to give credit where credit is due… The Inglemoor student section was unbelievable tonight. No disrespect to the Juanita students, but in the second half when Inglemoor was down by 50+ points, the student section was still at full capacity and going all out. It was very impressive.
– This was the first win for new Juanita head coach Lele Te'o. He has been with the program for a number of years as an assistant, but getting that first win as a head coach was different.
"It feels awesome because of the kids we have," Te'o said. "Last year was nuts, this whole off-season was crazy and those guys battled through it, and makes it all worth it."
"Lele is a great coach and has been there for us as long as I can remember," Tavin Montgomery said. "He has always pushed us to be great and now we want to give back to him."
– Juanita's defense was very impressive tonight. There weren't many tackles that didn't have 4-5 Rebels around the ball. If you take away Woodley's 80 yard run, I am not sure Inglemoor had more than about 100 yards on the night.
"We wanted to work on that," DB Makiah Gilmer said. "A lot of people think we are undersized so our philosophy is to swarm to the ball and tackle as a team."
"We looked at what we are doing, the size we have and we want to play fast," Te'o said. "We want to put kids in position to do great things and we did it."
– I really liked the play of a few players from Inglemoor. RB/S Jalen Woodley is a star in the making. He has the tools to be a big time player, and if he hits the camp circuit this off-season, the sky could be the limit. I thought Mario Tupou ('17) played very well on the OL. He has good size at 6-foot-3 and 255 pounds, and plays with a mean mentality. There may be something to look at with Alex Crotteau ('17). He has good size (6'2″ 180) and showed nice athleticism throughout the night.
– A.J. Peacocke, a transfer from Inglemoor, was a difference maker on both sides for Juanita last night. He looks good offensively, but I really think he projects as a defensive back. After spending the last two years as a backup QB, Dexter Mell played OLB and really looked good in the process, even coming up with a fumble recovery.
– Juanita sophomore DT Palmer Sumner was fun to watch. He had a few nice plays and played with unmatched enthusiasm. Sumner stand 6-foot-5 and 300 pounds, and moves surprisingly well for his size.
Next
Juanita home vs Mountain View (9/11)
Inglemoor away vs Eastlake (9/11)