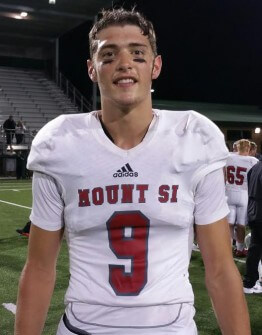 2016 Mount Si (Snoqualmie, Wa.) WR Parker Dumas is a man on a mission. While getting ready for what he hopes is a big senior season, he's also focused on where he will play his college football.
The talented updated Northwest Elite Index shortly after helping lead his team to a season opening 13-12 win over Woodinville by posting eight receptions for 86 yards and a touchdown.
"We had a great offseason and these guys out here, my teammates, and I, we had a really good fall camp," Dumas noted. "I worked really hard on getting stronger and faster so I was in the weight room a lot. I also worked a lot on my releases and high pointing the ball. When you are 6'5″ like I am, if you can do that, then there aren't many balls you can't go and get."
With his size and catch radius, several schools liked what he brings to the table enough to extend him offers and one was even on the sidelines for the game.
"The coach from Eastern was here," Duman said. "He's been recruiting me for a while.
"They have offered and so has Wyoming, Portland State and Montana and I have been talking a lot with Northern Arizona, but so far they haven't offered yet.
"I have also been talking a little bit with Oregon State because I went to their camp down there and then the Washington coaches have also been in contact with me too."
Dumas does not have any official visits planned although he hopes to take in games at all of the schools showing him interest at some point this fall.
"I'm actually heading over to Montana for their game this weekend (vs. Cal Poly on Saturday)," Dumas said. "I'm also going to hit a few U-Dub games just because they are so easy to get to for me.
"I want to wait to schedule my official visits and just see who else is interested. I will probably just wait until after my season is over and then take my trips."
Dumas and his teammates will take on Redmond (Wa.) High School next Friday, September 11th, in their first home game of the season.