Click for Mushawn Knowles Highlights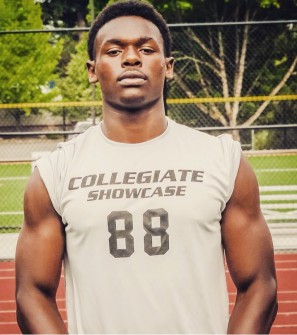 An athlete to keep an eye on during the 2015 season is Mushawn Knowles of Lincoln (Tacoma, Wash.) High School.
Last year's Lincoln squad was littered with D1 prospects, so Knowles was overshadowed a bit, but is ready to breakout during his senior season.
The 6-foot, 190 pounder is a bit of a tweener, being highly skilled as both a linebacker and defensive back.
"I love both positions to be completely honest," Knowles told Northwest Elite Index. "I feel I'll be more successful at safety going into the next level. I've gained more speed and I feel that both my mind and body are definitely strong and sharp enough for the safety position, but my intensity and aggressiveness fits for both positions."
Knowles is very good in both zone and man-to-man coverage, has a nose for the ball, and plays with a hit first mentality, perfect for what most teams look for in a strong safety.
"One player in particular that I try to model my game after is Kam Chancellor," Knowles said. "There's just something about this man's game, his mindset, and just the way he carries himself. Just like him I like to think of myself as that big hitter, that will continuously make you not want to even line up again.
"Being a strong safety, you gotta be the meanest, nastiest guy on the field and have to be the one to set the tone."
Lincoln started their defense of the Narrows League 3A title with a 54-7 win over Roosevelt (Portland, OR). Knowles came away with eight tackles and two pass break-ups, both which he admits should've have been interceptions.
Knowles sports a 3.46 GPA and spent the spring on the track team running the 300m and 110m hurdles, and working on his speed and athleticism.
Even though he is still a bit under the radar, Knowles has been hearing from FBS schools like Washington, Washington State, North Carolina and Wake Forest. While FCS programs Montana, Montana State, UC Davis, Northern Colorado, Northern Arizona and Portland State have been in contact recently. Knowles is even hearing from multiple schools from the Ivy League.
The Abes are primed for another good season with a deep playoff run, so you can expect to hear more from Knowles and his teammates, and NEI will be right here to let you know when news breaks.