Click for Brandon Thompson Highlights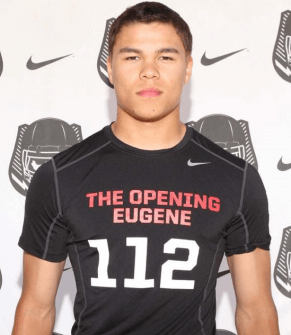 The Yelm Tornadoes haven't produced a ton of talent in recent years, but that is about to change as RB Brandon Thompson looks to be on of the top backs in the State of Washington's 2017 recruiting class.
In an act of robbery, Thompson was recognized as an honorable mention last season after rushing for 1,225 yards and 16 TDs, including a 352 yard, 7 TD performance in a week six win over Evergreen (Vancouver).
At 5-foot-9, Thompson is a bit undersized, but plays bigger than his numbers. He has good speed (4.61 40-yard), quick feet, great vision and tremendous balance.
"I would compare my game to LeSean McCoy," Thompson told Northwest Elite Index. "A speedy back but also can slip tackles, and every now-and-then lower a shoulder. Always a threat receiving passes out of the backfield or lining up at receiver."
Thompson has that all-around back feel to his game, and showed it in week one when he finished with 102 rushing yards, 122 receiving yards and 3 total TD's, as the Tornadoes thumped Steilacoom 44-14.
In the offseason, Thompson makes his way to the baseball diamond, where he is one of the better players in the state. Last season he was voted first team All-Narrows League, after being name to the second team as a freshman.
It is likely a day will come in which Thompson will have to make a decision between baseball and football.
"I am open to playing both football and baseball at the next level," Thompson said. "But I would give football the priority. Baseball is always an option, as I love both."
Recruiting has been light thus far, having heard from mostly D3 and NAIA schools, but there has been interest from Washington State, for football and baseball, both of which he visited unofficially. Washington has made contact in baseball, and Thompson visited unofficially in February, but nothing thus far from the football program.
Thompson works hard both on and off the field, sporting a 3.69 GPA as a member of the National Honor Society, so it is only a matter of time before the higher academic schools take a heavy interest.
With Thompson in the backfield, anything is possible for the Tornadoes, and we will be sure to keep you updated as news breaks.