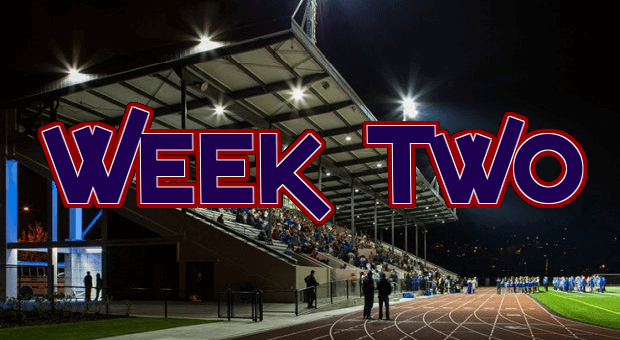 My Schedule
Thursday – White River Hornets (0-1) @ Lindbergh Eagles (1-0) – Renton Memorial 7:00pm
Friday – Timberline Blazers (0-1) @ Tumwater Thunderbirds (1-0) – Tumwater District Stadium 7:00pm
Saturday – Camas Papermakers (1-0) @ Federal Way Eagles (0-1) – Federal Way Memorial 2:00pm
Saturday – Orting Cardinals (1-0) @ Cascade Christian Cougars (1-0) – Sunset Chevrolet Stadium 7:00pm
Thursday Games
Not many Thursday games this week, as a matter of fact, our buddies at WaPrepZone.com only have eight total games listed, with three of them being on the eastern side of the state.
I've picked the White River/Lindbergh game for a few reasons. First off, the odds I will be able to see either of these two teams at a later date are slim-to-none. Secondly, We have deprived the 2A level in recent years, and Lindbergh seems to always have a few big time athletes that needs to be noticed.
Thomas Jefferson travels to Graham-Kapowsin, who will be without star LT Foster Sarell ('17). If you are attending this game, keep an eye on Jefferson RB Kenneth Turner ('16) and let me know what you think. He put up great numbers in week one, has nice film and will need to be on top of his game for the Raiders to win.
Double header at Joe Albi in Spokane with four teams that got wins in week one. The first game of the night is between Eastmont (Wenatchee) and Mount Spokane, followed by Southridge (Kennewick) and Mead. Frankly, if I wasn't driving all the way down to Tumwater on Friday for Root Sports, I would've gone out to Spokane this week to get a look at the eastside.
Gig Harbor should have no problem with Auburn Riverside. The Ravens are building what could be a special team, but they are still at least a year away.
Friday Games
Tumwater and Timberline will be tape delayed on Root Sports, with a 10:30pm start time. Keep an eye on #43 for Timberline, Savaauli Maae . You may not be able to see his number, but you will see plenty of hair flowing on both offense and defense.
On the other side, Tumwater is ranked #2 in our 2A poll, and you could really argue for them to be #1, as it really is a toss up between the T-Birds and defending champ Sedro-Woolley. I am excited to see the progress of WR/DB Griffin Shea ('16). He is one of the more underrated athletes in the state, and had a big game last week. Easton Trakel ('16) didn't play last week, but it didn't really matter as Jarrid Barrett ('16) more than picked up the slack with 100+ yards and 2 TDs.
Big game this week as the Bishop Gorman Gaels of Las Vegas, NV. come to town to take on the Bellevue Wolverines. People keep asking me my opinion on the game… Honestly, I have no clue. One thing I have learned over the years is that when Bellevue wants something bad enough, they go get it. I think having a bye in week one tells you everything about how seriously they are taking this game. Would it surprise me if Bellevue won? Not at all.
Could be a really good non-league game in Vancouver when the Union Titans play host to the Curtis Vikings. It took Curtis some time to get going last week against Kentwood, but once they did, they played very well, we will see if they can carry that momentum over to this week's game. Union looks tough, maybe tougher than last year. Union QB Jordan Lawson had a tremendous first week, throwing for 269 yards and 6 TDs, including two each to Keithen Shepard and Nathan Kuratli.
Another good non-league matchup is Mountain View (Vancouver) at Juanita. Both teams like to run the ball, and are coming off wins in week one. This game will feature two of the top RB's in the state with Preston Jones (Mountain View) and Salvon Ahmed (Juanita). The Rebels ran away with this game last year, so the Thunder are looking for a little revenge.
Up north there is a big non-league matchup between Lake Stevens and Marysville Pilchuck. Both teams are in the tier respective top ten, and like last year, this could be a great game. Quil Ceda Stadium is not far up highway 9 from Lake Stevens, so you can expect a large Viking contingent.
Gonzaga Prep and Bellarmine Prep meet again, this time at B-Prep. It took a little time before the Lion offense got going, but I really liked the duo of Ahmad Lewis ('16) and Matthew Money ('17) in the backfield. G-Prep struggled to score, but they played a Richland team I am pretty high on, and with Cal commit Evan Weaver ('16) on defense, there is always a chance.
Bothell travels to Issaquah, and someone is going to start the season 0-2. Expectations were high for both programs, and to start down two league games, could start to worry some. Jacob Sirmon had a solid first start, but had his moments, but really it is no different than what previous QB Ross Bowers went through.
Newport is home to face Skyline, and this is a great opportunity for the Spartans to take start with two quality wins, after last week's come-from-behind victory overtime over rival Issaquah. Newport easily walked past Redmond, and this could be a statement game for the Knight. Should be a heckuva contest.
Before last week, I would've said the annual Spaghetti Bowl between Capital and Olympia looked like a great game, but after seeing Olympia on board, I think they are double digit favorite. That being said, it is a rivalry, so who knows.
Rogers (Puyallup) and Tahoma meet again, and I wouldn't expect the same fireworks we saw last season, when the two teams combine for about a billion and a half yards. Both teams are 1-0 after week one and this is the type of momentum game that could really fuel a good season.
Saturday Games
I am really excited for the Camas/Federal Way game. While I think Camas is a heavy favorite, this game just features so many great athletes. Camas QB Liam Fitzgerald ('16) is one of the top in the state, and a kid I really enjoy watching. D'Jimon Jones ('16) of Federal Way is committed to WSU, and like Fitzgerald, he is just flat out fun to watch, as he is a threat to score anytime he is on the field.
The night cap should be a beauty as well. I think Orting is one of the up-and-coming programs in the state, and could see sustained success for some time. Cascade Christian is, well, Cascade Christian. The defending champs are young, but very talented. It took them a little time to get going last Saturday, but once they did, they had the look of a solid football team.
If you wanna go wild, head to Memorial Stadium in Seattle where you can see four games. Renton plays Rainier Beach at 10am. Franklin and Garfield play at 12:30pm, the Bulldogs should have no problem. At 3pm, Ballard and Roosevelt take the field, Ballard has some big name players, like Raemo Trevino ('16), Elijah Davis ('16) and Davine Tulis ('16). The night game is a private school matchup between Seattle Prep and Kennedy Catholic, starting at 5:30pm.
A 7pm game up north between Squalicum and Meridian is on tap for Civic Stadium in Bellingham. Squalicum is ranked in the top 10, while Meridian is never a pushover. The Storm won easily last week, and may be building on something special.