Click for Clay Markoff Highlights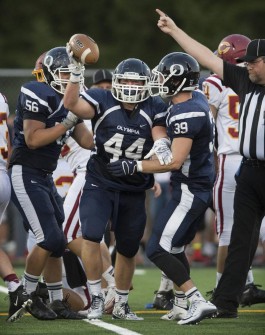 One of the bigger surprises in this young season has been the play of the Olympia Bears, thanks in large part to the play of FB/LB Clary Markoff ('16).
The Bears are 2-0 after waxing rival Capital 41-7, a week after an impressive 42-0 beat-down of Ferris (Spokane) at Husky Stadium. They've moved into our top ten team rankings, after starting the season virtually off the radar.
"I'm confident in all of our players to do their job to help us win," Markoff told Northwest Elite Index. "We have the talent to be great. We just need to go into every game with a will to win cause I know as a team if we play our best game, every game, nobody can stop us.
"Our team as a whole has super high expectations for this year. Since the last day of football last year everyone has bought in to doing something great. In our mind, we believe that we can compete with anyone so we expect to be in the Tacoma Dome at the end of the season."
Following a tremendous junior season, Markoff was voted first team All-Narrows, after being recognized as an honorable mention after his sophomore year.
"It meant a lot to make all league last year," Markoff said. "It helped to have a great D-line in front of me and the rest of the LB's and DB's around me. It felt great to have support from coach Beattie and the other coaches around the league and to be recognized for what I did as a player."
Markoff is one of the strongest players in the state, with a bench press of 410 and a 575 squat, but at 5-foot-11, he is considered to be a bit undersized.
"I model my game after someone like Adam Bighill," Markoff noted. "He is about 5'10, is all over the feild all the time and makes up for his lack of height by being disciplined and playing fast. As a Fullback I always liked Mike alstott. Very punishing lead blocker and thats how I like to play fullback."
Bighill, a Montesano alum playing for the B.C. Lions of the CFL, is a great example when looking for a comparison to Markoff. Both athletes are tough against the run, play with great instincts, have a high football IQ and are true heart-and-soul type players.
Markoff is hearing from schools all over the spectrum, including big schools Nebraska, Missouri and Wazzu, as well as FCS schools Eastern Washington and Portland State. Being a good student, 3.6 GPA, he is also hearing from the likes of Army, UC Davis, Cal Poly and Holy Cross.
We will keep you updated on Markoff and his teammates, as they have the look of a very good team.