Click for Dylan Axelson Highlights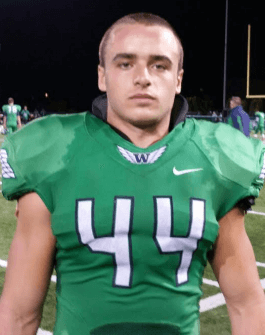 He's the leader of Woodinville's defense and LB Dylan Axelson takes that very seriously. So far, he personally has gotten off to a great start, but the Falcons are currently 0-2 on the season. However, it's a long season and the senior prospect told Northwest Elite Index recently that he knows his team will be looking to him to lead the way.
"It's been a tough start," Axelson, a 6'0, 200-pounder, said recently. "We have battled hard, but so far, we don't have anything to show for it, but we've played some good teams already and I think we'll be better for it down the road as we get more experience and get into league play."
As a junior last season, Axelson totaled nearly 100 tackles and was seen as a leader on both sides of the ball heading into the season. So far, all he's done is rush for nearly 200 yards and three touchdowns on offense while posting 25 tackles and an interception on defense.
A big part of Axelson's offseason was dedicating himself to living up to the number 44, a the jersey number he was assigned with a mentor/friend of his, Parker Moore, who passed away after being stabbed to death late last year.
"When I was a freshman, I got in a little bit of trouble and Parker was there for me and he texted me and told me to come up and meet him at the school in the morning," Parker said. "We met and then he gave me the number 44 magnet for my car, we all have our numbers on our cars, and we have been great friends since then and we always will be.
"Parker was a great player and an even better person. He was a leader, he cared about everyone and he never was going to let you fall off the track and that was a great example for me and it's what I strive to be like every day of my life."
This summer, Axelson gave the number back to his coaches, saying he wanted to earn the right to play with that number.
"The coaches worked me hard and I worked hard on everything this summer and it's going to be a new thing for us, whoever wears 44 will be the guy who represents all of the things Parker stood for," Axelson noted.
As far as recruiting is concerned, Axelson has been to Montana to watch a game so far this season and he's also been talking to Easter.
"So far, no one has offered, but a few schools like me a lot," Axelson said. "I think they just want to see how I have progressed this year and then we'll see what happens."
Woodinville, currently 0-2, will travel to 0-2 Redmond as they take on the Mustangs in the second league game of the year for them.