Click for Makiah Gilmer Highlights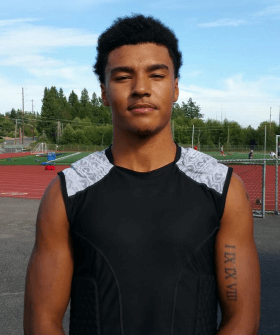 A program going through a change this fall is Juanita (Kirkland, Wa.) and one of the players helping to ease the coaching change is two-way star Makiah Gilmer, who may be one of the more underrated skill players in the state.
"We were sad to see (Shaun Tarantola) leave, but coach Lele (Te'o) is a really good coach and I feel like it's been about as smooth of a transition as there could be," Gilmer told Northwest Elite Index recently. "I feel like it was a fresh start for us and we can just build off of what we did before and be even better with the leadership we have now."
Gilmer is helping to make the transition easier by being a dual-threat player who has an impact as a receiver and from his defensive back position.
"They have me at the 'X' receiver and I am also at corner mostly," Gilmer said.
"Makiah is a great leader and a really good player," Te'o told NEI last month. "I think he's pretty underrated. He can do it all and I think schools have started to take notice of him so far."
On the recruiting front, Gilmer currently holds offers from Montana State, Utah State, UNLV, Idaho and Portland State and he's been talking to a few other programs as well.
"Mostly I have been talking to Boise State and to Wyoming," Gilmer noted. "I talk to them quite a bit. I've also been talking a little with Washington State.
"I took visits to Boise State and Washington State this summer. I went to their camps and I also attended their Junior Days.
"The one school I know I will visit is Utah State, but I haven't set that one up yet. I will probably try and do that pretty soon here. I'd like to make my decision (in September) or October, so I need to set it up soon."
Juanita is off to a 1-1 start and they will take on local rival Lake Washington this weekend.