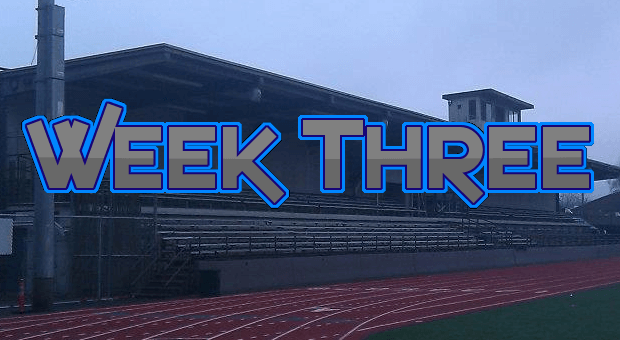 My Schedule
Thursday – 4A #10 Eastlake Wolves @ 4A #1 Gig Harbor Tides – 7pm Roy Anderson Field
Friday – 1A #5 Connell Eagles @ 1A #1 Royal Knights – 7pm David Nielsen Memorial Field
Saturday – Bainbridge Spartans @ Everett Seagulls – 1pm Everett Memorial Stadium
Saturday – Newport Knights @ Bothell Cougars – 7pm Pop Keeney Stadium
Thursday Games
Pretty exciting week across the state, and it starts at Roy Anderson Field on Thursday night with a 4A Top Ten matchup between the #10 Eastlake Wolves (2-0) and the Gig Harbor Tides (2-0). This is a rematch from week three last season, when Eastlake came away with a 24-21 win on home soil. This is a great test for both sides and should be one of the best early season games.
The Root Sports game of the week is between Bonney Lake (1-1) and Auburn Mountainview (2-0) from Auburn Memorial Stadium. Bonney Lake got a 59-0 win over Clover Park last wee, after being shutout themselves the week before. Auburn Mountainview has wins over Steilacoom and Foss. This will likely be the Gresch Jensen show, and I doubt he plays after the third quarter.
SWX is carrying the Walla Walla (1-1) at Kennewick (1-1) game from Lampson Stadium. Both teams got wins last week, and will need to carry it over in their first Mid-Columbia action of the year.
The Curtis Vikings (2-0) slid into the 4A top ten this week at #8, after impressive come-from-behind wins over Kentwood and Union. This week they travel to Art Crate Field to take on the Spanaway Lake Sentinels (1-1), who are coming off a big loss to Battle Ground, after blowing out Decatur the week before. Curtis put up 535 yards last week, including 391 on the ground, behind 186 from senior back Donnell Diego.
The Kentwood Conquerors (1-1) dropped a week one game to Curtis, then proceeded to go into halftime against Emerald Ridge down 25-14, before going wild in the second half for a 42-32 win. Thomas Jefferson (1-1) does most of their damage on the legs of senior back Kenneth Turner. For TJ to win this game, they will need a big game from Turner, as I expect Kentwood to be ready to go.
Friday Games
I am excited to head out to Royal City this week as I have heard nothing but great things about the atmosphere at David Nielsen Memorial Field. Those of you who know me, know how much I love small school football, and this trip is a bit of a bucket list type trip for me.
The home town Royal Knights (2-0) are off to a hot start, and anytime the Connell Eagles (2-0) come to town, things tend to get a little rough. Junior QB Kaden Jenks has the Knights at #1 in the state right now, but the Eagles come in ranked #5 looking for the upset. This game could very well decide the SCAC East Champion when all is said and done. If you would like to watch the game online, you might even hear me at some point, just simply Click Here .
The Okanogan Bulldogs (2-0) travels to take on the Lind-Ritzville-Sprague Broncos (2-0). LRS comes in ranked 2nd in the current NEI rankings, while Okanogan is ranked 7th. Even though this is a non-league matchup, it will be an early look at what could be a state semifinal matchup. The two teams have combine for the last three state championships, with LRS winning the first two, and Okanagon winning last season.
I was tempted to put the Rainier Mountaineers (2-0) into the 2B top ten this week, but held off. This week they travel to take on the #3 Raymond Seagulls (2-0). McKoy Bichler will have to be huge if the Mountaineers are going to win. Bichler is a game changer at the 2B level, and capable of carrying Rainier a very long way.
True hatred type rivalries are dying in high school athletics, but one still hanging around is that of the Bellevue Wolverines (0-1) and Mercer Island Islanders (1-1). The two schools really do not like each other, even if football has been a bit lopsided as of late. Bellevue took a loss to Bishop Gorman last week… Yawn. Doesn't change my opinion on where I see them headed this season. Mercer Island got back on track after a week one thrashing with a 34-14 win over Kentridge.
Mount Si (2-0) hasn't scored a ton of points this season, but also haven't given up many. They will need their defense to continue leading the way as they take on #4 Skyline (2-0), who is coming off an impressive 49-0 win over Newport. The Spartans have the ability to put up yards in bunches, and the combination of QB Blake Gregory and RB Rashaad Boddie is one of the best in the state. The winner of this game will have an early inside track to a playoff spot. This game will be played at Eastlake High School, as Skyline has yet to finish their new stadium.
2A Northwest Conference play opens with two games featuring four ranked teams.
#1 ranked Sedro-Woolley (2-0) is home to take on #10 Burlington-Edison (2-0). If I wasn't going to Royal City, this is likely be the game I would've attended. Each team hammered Mount Vernon, SW 40-7, BE 45-7, and both want to start league play on the right foot. This should be a fast game, as I expect both teams to keep the ball on the ground.
The Squalicum Storm (2-0) head north, a little, to take on the Lynden Lions (1-1). Squalicum is currently ranked 8th, while Lynden comes in right behind them in the 9th position. The Storm were given a forfeit last week by Meridian, as selfish players walked out on the team. Lynden lost to a tough King's team in week one, but rebounded with a big 53-0 win over Lakewood last week. Are the Storm for real? Was week one a bit of a fluke for Lynden? We will get answers this week.
Mid-Columbia Conference play gets underway with a big game as Richland (1-1) and Chiawana (1-1) open with a very important game. These two teams are the favorite to take the two MCC 4A spots this season, and this could determine which one gets a home game in the week 10 crossover, and which team travels to Spokane. Both teams dropped week one matchups against ranked teams, and are on the fringe of the top ten rankings themselves.
Four teams start 4A Greater St. Helens League play with big games.
The Union Titans (1-1) dropped a tough one last week to upstart Curtis, while the Mountain View Thunder (2-0) went up to Juanita and ran all over the Rebels. Union will have to close some holes in their run defense, that gave up almost 400 yards last week, while Mountain View will look to pound it behind their big-physical line. This matchup also has two of the state's top RB's from the 2016 class in Preston Jones (MV) and Rey Green (U).
Battle Gound (2-0) travels to the Kiggins Bowl to take on the Skyview Storm (2-0). The Tigers are known for slinging the rock, but ran for 200+ last week behind a physical line. There could be something brewing with Battle Ground, and going on the road to face a tough Skyview team is just the test they need to prove themselves.
In a non-league game, the 5th ranked O'Dea Fighting Irish (2-0) head north to take on 9th ranked Marysville-Pilchuck (1-1). The Tomahawks are coming off a non-league loss to 4A #2 Lake Stevens, while O'Dea really hasn't been tested yet, although they haven't really played a tough schedule thus far. The O'Dea LB's will be key this week, and they have two of the better inside backers in the state with Julius McDade and Montique Edwards. Those two play tough, and O'Dea should be just fine.
The Tahoma Bear (2-0) are off to a hot start, while the Federal Way Eagles (0-2) are back peddling, and have now lost do-everything D'Jimon Jones for the rest of the season. UW commit Amandre Williams is playing at a very high level, and should continue it this week, but even without Jones, FW is no cake walk.
A top 1A matchup takes place this week in Gray's Harbor when the Hoquiam Grizzlies (2-0) play host to the 7th ranked Tenino Beavers (2-0). Hoqiuam QB Bubba Dick is an intriguing prospect at 6'5″ and 180 pounds. He has a nice arm and could be a difference maker in this game. Tenino RB Thomas Pier is one of the more underrated athletes in the state, and is really the hear-and-soul of Beaver football.
Saturday Games
Not many games this Saturday, and no bigger matchup than Newport (1-1) at Bothell (0-2). The Cougars have struggled to create much on offense this year, but it is only a matter of time before Bainter and company get the ball rolling. Newport had a nice win in week one, but were blasted last week at home vs Skyline. If Bothell drops a 3rd straight Kingco game, it will be VERY tough for the Cougars to get back to the state playoffs this season.
Cascade Christian (1-1) dropped a tough game last week vs Orting. The Cougars marched right down the field for a touchdown on the opening drive last week, but miscues and turnovers cost them the game. Nooksack Valley (0-2) made the long drive down to Montesano only to get shutout, after putting up 33 the week before. The Pioneers need this game to give them some momentum heading into league play next week.