Click for Michael Matthews Highlights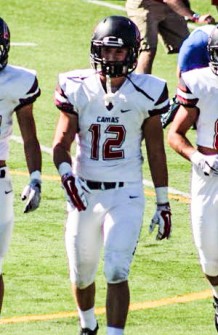 A 2017 class LB making a name for himself early in the season is Michael Matthews of Camas (Wash.) High School.
Matthews plays very fast-instinctive in the middle, and is a sound tackler. He has a high football IQ and makes all the calls for one of the best defenses in the state.
"I model my game a lot off of Scooby Wright from the University of Arizona," Matthews told Northwest Elite Index. "I love how scooby plays fast and always makes sure of tackles when he gets his hands on a back.
"He also is good with his hands, and can shed blocks easily, something I've been working on."
One of the few things Matthews needs to work on is shedding of blocks. At 6-foot-1 and 195 pounds, Matthews still has a way to go in the strength department, but you can expect it to come with hard work in the weight room and on the field.
Currently the Papermakers are ranked 3rd in the 4A classification, and you could really make a case for them to be number one. It seems like Camas finds a way to reload every year, and it comes from their highly successful youth football program.
"I have been playing youth football for the camas team in the Clark County Youth Football leagues and pop warner since the first grade," Matthews said. "I went to every Camas game when I was little, and dreamed of playing at Doc Harris [Stadium] in front of the home town crowd one day."
It really is a family like mentality from top to bottom in Camas. The youth athletes look up to the high school players, and the high schoolers do their best to help keep the tradition alive.
"Going into my sophomore year while coaching the linebackers at the Camas Big Guy-Little Guy Camp, John Norcross (Portland State) was back in Camas and helped me out," Matthews noted. "I spoke with him for long periods of time each day. John was a role model for me growing up, so it was nice getting to talk to him and have him offer me some advise and help on playing at the varsity level.
"I took his words to hard and knew I had big shoes to fill, as Camas has always had great middle linebackers. I wore number 12 that season, and will wear it my junior and senior seasons as well, the same number he (Norcross) wore."
The Papermakers are deep at the skill positions, strong on both lines, and have a plethora of leadership. We will be sure to keep you updated as Matthews and the Papermakers appear to have the look of a deep playoff team.