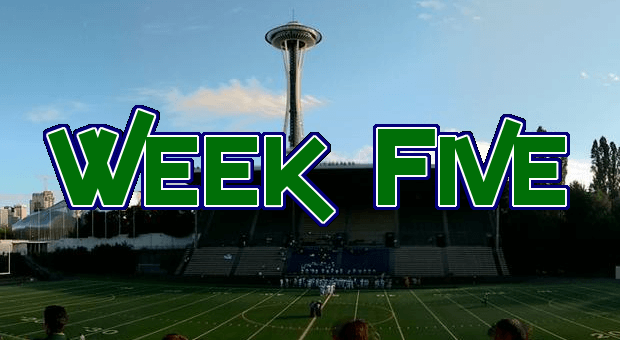 My Schedule
Thursday – 3A #5 Sumner Spartans (4-0) @ Peninsula Seahawks (2-2) – 7pm Roy Anderson Field
Thursday Games
I am headed out to Roy Anderson Field tonight as part of the Root Sports crew. Roy Anderson is one of my favorite places to watch a game, even if the drive to get there is a pain in the butt.
Peninsula OT Cody Kanouse ('17) just received an offer from Washington State, and has vastly improved his game since I saw him last season. The ceiling is still very high for Kanouse as I think he is not even close to reaching his maximum potential.
Another Seahawk to keep an eye on is Reece Johnson ('16). He is a two-way lineman, with an offer from the University of San Diego. Johnson should be a factor on the defensive line, and will be a key member trying to stop the vaunted Spartan rushing attack.
Sumner's Connor Wedington ('17) is one of the top two-way athletes in Washington after taking on DB duties this year, and has done a great job. Wedington is the top ranked RB in his class, and holds an offer from Eastern Washington University, while hearing from many other FBS schools.
Excited to see Tre Weed ('18) of Sumner, as he looks to be one of the top WR's in his class. Tre really reminds me of Gig Harbor's Kyle Olson-Urbon, who we are very high on at NEI.
Seth Carnahan ('17) stands 6-foot-7 and 240 pounds, with a frame ready for weight. He is a basketball player, with nice feet and loads of upside.
There is a good matchup in the Seamount League, as perennial powers Kennedy (4-0) and Lindbergh (3-1) meet, in what will likely decide the league champion. If you are attending the game, keep an eye on Kennedy RB Shammah Finau ('16). He is very much under-the-radar, and should be seeing more college interest as the season goes.
Big game east of the mountains with Central Valley (3-1) travelling to Joe Albi Stadium to take on the Mead Panthers (3-1). Mead was wacked by Gonzaga Prep two weeks ago, and responded by thumping Rogers last week. CV's Gage Connole rushed for 3 TDs last week, while QB Tanner Sloan gave the Bears balance on offense with 170 yards and 2 TDs.
The Battle Ground Tigers (3-1) are making waves right now, and have a chance to all but eliminate the Hertiage Timberwolves (2-2) from a playoff berth. Gunner Talkington ('17) doesn't have prototypical size for a QB (5'9″ 175), but the kid can flat out play. He almost makes you not notice his size with his arm and decision making.
I wanted to share film I just received from Curtis Vikings head coach Chris Paulson. Elijah Piper ('16) is NEI's top rated defensive lineman without an offer, and has had a great season thus far. Click his name for his highlights, and look for an article on him in the coming days.