Click for Cameron Loos Highlights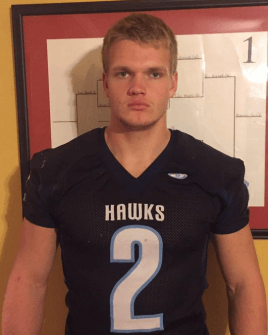 Hockinson is one of the top 2A programs in state and they have one of the more underrated players in LB/TE Cameron Loos, but as the season goes along, many more people should remember his name.
Loos, a 6'3", 234-pounder with outstanding athleticism and quickness, currently holds two offers and he's been hearing from several other programs as well.
"I have offers from New Mexico state and Portland State right now," Loos told Northwest Elite Index. "I have also been hearing from Eastern Washington, Montana and UC Davis.
"I've also gotten tickets to games from Washington State and Boise State."
This past offseason, Loos hit a handful of camps including the Northwest Elite Camp, the Northwest Rising Stars Camp and the Portland State camp.
As a prospect, Loos is a star on either side of the ball for Hockinson, but most schools see him playing tight end at the next level.
On offense, Loos has been a big contributor for three seasons. As a sophomore, he hauled in 25 receptions for 423 yards and four scores. He followed that up with 12 receptions for 245 yards and three touchdowns and so far this fall he's grabbed eight passes for 160 yards and two touchdowns in four games.
While playing defense, the senior leader has totaled 24 tackles (17 solo) with an interception he returned for a touchdown.
When you watch his highlight reel, Loos puts his athleticism and overall skills on display. He's good blocker with good feet and strong hands. He shows an aggressive nature at tight end, both as a blocker and as an open-field runner.
While he currently holds two offers, it wouldn't be a surprise anyone if more started to flow in once more schools get a look at what he's been able to do the first month of his senior season.
Loos and his teammates take on Hudson's Bay (Vancouver, Wa.) on Friday night.