Click for Matt Struck Highlights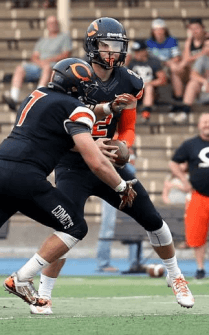 Matt Struck of Crater (Central Point, Ore.) High School is one of the state's top QB's in the 2016 recruiting class.
The Comets are 5-0 on the season, and the offense appears to be clicking and statistically speaking Struck has been good for close to 250 yards per game through the air.
"As an offense this year we are executing a lot better," Struck told Northwest Elite Index. "We all understand our individual roles a lot better which benefits each other stats and our overall record.
"This year more so than last year I feel very much responsible for the offensive success we have had. I trust all of our receivers and have complete confidence in them against any defensive back to make a play when we need it."
Crater plays in the Midwestern Conference of the 5A classification. Currently there are three top teams within the conference, #1 Springfield and #4 Ashland, and four undefeated teams overall. Crater even received a first place vote this week, and come in at #6.
"It is a very special thing to play in the Midwestern conference," Struck said. "You have to push your self day in an day out to get better because you know the other teams are, and there is never a sure win in our conference."
Speaking of never a sure win, this week the Comets get the highly ranked, and undefeated, Ashland Grizzlies.
"It should be a crazy game with a packed crowd," Struck noted. "Last year it was a 1 point game and from the first snap it was physical. This year I expect the same and I have complete faith in my offensive line to protect me in the pocket when it's time to throw the ball.
"We both have a very good group of skill players an it should be a great game. I know all the kids there (Ashland) very well and this is one we have been looking forward to for a while. It is a very important game for our conference and everyone's ranks."
At 6-foot-3 and 218 pounds, he has nice size for a QB, to go with a lightning quick release and good accuracy. Struck is a dual-threat and says he is in the 4.7 range of the 40 yard dash.
D1 athletes come from all over and Central Point, which is just north of Medford, is no different, but being in Southern Oregon can be tough on recruiting.
This past offseason Struck spent time all over the northwest on unofficial visits, and even had coaches from Oregon State, Utah State, Portland State and Montana, stop by his school to see him throw.
Time will tell with Struck and his teammates, and we will be sure to keep you updated on their progress as the season goes.