Click for Alex Freeman Highlights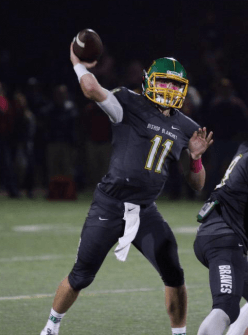 The Bishop Blanchet Braves are 5-0 and currently ranked 8th in our Top Ten. A big reason to their early success has been the steady play and leadership of senior QB Alex Freeman.
"I've got to give a lot of credit to my coaches," Freeman told Northwest Elite Index. "Coach [Kyle] Moore, our head coach/offensive coordinator, in particular. He has built an offense around my strengths and the strength of our team.
"Also, I couldn't do anything with out my offensive line. They aren't big, but they know their assignments and go all out every play. They have been so god this year that I haven't been sacked."
Blanchet is coming off an emotional 34-21 come-from-behind win over rival O'Dea, a team they hadn't beaten in 22 years.
"O'Dea is a great team," Freeman said. "They really had us on the ropes the entire game. Being the first team to beat O'Dea in 22 years was an experience I'll never forget.
"Our student section was unbelievable and it was the greatest feeling in world to jump around with them after they stormed the field."
We got to really know Alex this summer during the inaugural Northwest 9, and are pleased to see his progress thus far. Freeman wasn't exactly a household name going into the event, but has parlayed a strong performance into a great start to his senior season.
"The Northwest 9 taught me a lot," Freeman noted. "Coach [Taylor] Barton and Coach [Alex] Brink were great role models and coaches. Listening to Coach Brink explain coverages and QB progressions was eye opening.
"Most importantly, meeting and competing against the best QBs in the state was fun for me. I didn't come in with expectations and wasn't upset that I didn't make the top 9 because I knew that just in those couple of days I became a better football player. It is definitely showing this year."
Freeman is one of the busiest athletes I have ever met. He is a three-sport star at Blanchet, also participating in Basketball and Baseball, and is a captain of all three teams. Freeman helped restart the intramural sports program at the school and has also volunteered at the Blanchet football and basketball camps the pas three years.
It doesn't end there for Freeman, as he also volunteers as the head coach of an 8th grade select basketball team, and in the North East Seattle Little League as an umpire and all-star coach.
Even with all that, Freeman still finds time to carry a 3.2 GPA, in some very tough courses.
Things don't get any easier for Freeman and the Braves, as they travel to Sammamish to take on the defending 3A State Champion Eastside Catholic this Friday.
We will keep you updated on Freeman and Blanchet, as they look to be on a path towards a deep playoff run.