Click for Dylan Campbell Highlights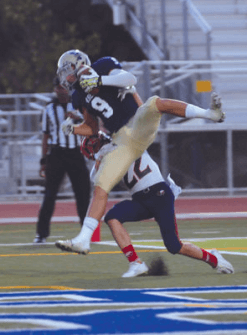 Every year athletes leave the pacific northwest for junior colleges in states like California, Arizona and Utah, in search of a college scholarship. At NEI we are committed to helping these athletes showcase their talents.
This week we start what we hope to become a regular thing on NEI, as we profile former PNW athletes off at junior colleges.
Dylan Campbell is a 2014 graduate of Graham-Kapowsin High School in Spanaway, Washington. He currently plays at Yuba College in Marysville, California, about 45 minutes north of Sacramento.
During his high school campaign, Campbell had interest from schools all over the NCAA map, some as high as the Pac-12, but problems in the classroom set him back and he was forced to take another route.
"I had let myself down by being a non-qualifier out of high school," Campbell told Northwest Elite Index. "But I have worked extra hard to ensure that I will have the grades to move onto the next level."
Currently Campbell sports a GPA over 3.0 and is on pace to leave Yuba this spring.
Having already played his freshman season, Campbell will have three years left of college football, with the ability to play two, with a third being a possible redshirt.
Campbell made a statement during his freshman season, finishing with 63 catches for 862 yards and 7 TDs for a Yuba team that is traditionally known more for running the football.
"It's nice only having to focus on one position," Campbell said. "Now that I'm strictly a receiver and I love getting coached to clean everything up."
While at Graham-Kapowsin, Campbell was asked to play a variety of positions. He was a RB as a sophomore and earned second team All-SPSL honors, played safety on defense, and lined up both inside and outside at receiver, but has truly found a home.
Through five games this season, Campbell has 30 catches for 298 yards and 3 TDs, as the 49ers have gone back to more of a running style as they break in two freshman QB's.
At 6-foot-1 and 200 pounds, Campbell has nice size and has worked very hard on his overall explosiveness. He possesses strong hands, a great leaping ability and shows well after the catch.
We will keep you updated on Campbell's progress and be sure to let you know when he moves on to the next level.