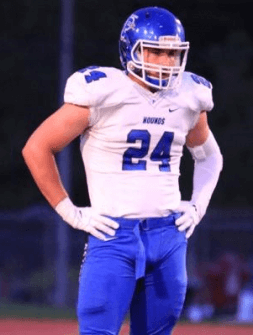 Playing in Pullman, Washington, it can be tough to get noticed by the recruiting services, however, that hasn't been a problem for 2017 Pullman TE/DE Ben Moos who already has several Power Five schools looking his way.
At 6'4" and 235 pounds, it's hard not to notice Moos, whose father, Bill, is the Athletic Director at Washington State and a former Cougar footballer himself.
While Ben inherited his father's athleticism and intensity, he may be even more athletic and that makes him an intriguing tight end prospect at the next level.
"I like to think of myself as more of a tight end," Moos told Northwest Elite Index recently. "In my opinion, it's the perfect position in football.
"It's truly a hybrid position. I view myself and the position as a larger receiver with the ability to physically dominate whoever the opposition decides to place on me, whether it be blocking or receiving."
So far this season, Moos has hauled in a team-leading 23 receptions for 365 yards and two scores and he's no slouch on the defensive side of the ball, posting 25 tackles, five tackles-for-loss and an interception from his defensive end position.
On the recruiting front, Moos has one offer, from Washington State of course, and he's been hearing from several other schools as well.
"The other schools that I've been in contact with are Oregon State, Utah, Washington, Cal, Arizona, and Louisville," Moos said.
Because of his family history with the Cougars, you might think that Ben is destined to continue the family legacy, but he is adamant that he is keeping an open mind.
"I love WSU and the staff there, but that being said, I think it's important for me to explore my options and treat the process like any other recruit would," Moos added.
Moos took in camps at Washington, Oregon and Nebraska as well as the Nike Regional camp in Oregon as well.
As far as an early decision, Moos is in no hurry.
"I've talked about it a lot with my family and as of right now I'm planning on waiting until after my senior season to make my final decision," Moos said.
With his size, athleticism and soft hands, Moos is a prospect who will garner tons of attention from schools during the 2017 recruiting cycle.
NEI will continue to keep tabs on Moos in the coming months and we will update news on him as it happens.