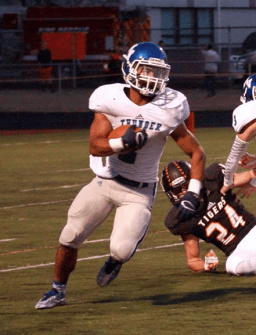 From a productivity standpoint, there might not be a more dynamic runner in the state than Mountain View (Vancouver, Wa.) RB Preston Jones.
Even though he's totaled 1,514 yards and 18 touchdowns in just eight games, Jones might be an even better baseball prospect and that's been proven with the interest he's received in that sport.
"I'm actually committed to Oregon State to play baseball," the All-State center fielder told Northwest Elite Index. "I batten .533 last season and I had over 25 stolen bases.
"I'm more of a gap hitter instead of a power guy. I use my speed to get on base and set up our big hitters, so I don't get a lot of RBIs, but I do score a lot of runs and total bases and I put pressure on the opposition by getting on base and being aggressive."
Because he's such a good tailback, he has spoken to several schools about playing football just like future baseball teammate Central Catholic (Portland, Or.) ATH Ronnie Rust.
"Ronnie and I have been playing baseball and football against each other for a long time," Jones noted. "I'm actually looking forward to playing with him in college.
"When I was on my official visit to Oregon State (for baseball) last weekend, I had hoped to talk to the (football coaches) about playing football once I get there, but they were busy, so I will talk to them about it another time.
"I spoke to them in the spring about it and they said to just keep in contact and talk to them about it at some point."
At 5'11, 187 pounds, Jones is a solidly put-together athlete with the ability to be a real playmaker in either sport. However, his future seems to lie on the diamond and you can't fault him for choosing that sport with how productive he is and what he can do on the base paths.