Click for Caleb Brown Highlights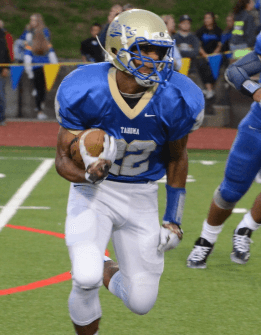 One of the most intriguing parts of being a scout for local high school talent is when you get the chance to see a kid who is flying under-the-radar. Tahoma (Maple Valley, Wa.) CB Caleb Brown is just such a player, but after schools get a look at his highlight tape, he should see things start to pick up.
Brown, a 5'10", 170 pound prospect who rarely leaves the field for the Bears, has yet to garner an offer, but he has had a few schools contacting him.
"Eastern Washington talked to me when I went over there for a game and they said if they offered me it would be a partial offer," Brown told Northwest Elite Index. "I've also talked to Westpoint (Army) for track and Montana has been contacting me with letters and stuff, but that's about it."
While he rarely leaves the field, Brown will likely play corner in college, something he excels at, due in no small part to his aggressive nature and constant work during the offseason.
"I'd say I have good closing speed, but I have also worked a lot in the offseason on my craft as a defensive back," Brown noted. "I worked a lot on my footwork and coverages and I feel I can cover any wide receiver in the state, press or off coverage.
"As a returner I choose a spot to run and I take it full speed."
In addition to his abilities on the gridiron, Brown is also a stalwart on the track team, participating in almost every event during the spring.
"I do pretty much anything my coaches want me in for each meet," Brown said. "My main events are the long jump and 110 hurdles, but I run the 100, 200, triple jump, 4×1 and also 300 hurdles."
So far this season, Brown has used his outstanding ball skills and aggressive style to post four interceptions to go along with 50 tackles.
He's definitely a prospect to keep an eye on as we get closer to Signing Day in February as more schools start to realize how good this undiscovered diamond really is.
Brown and his teammates finished the regular season 7-2 and will play top-ranked Lake Stevens this weekend.