Click for Samori Touré Highlights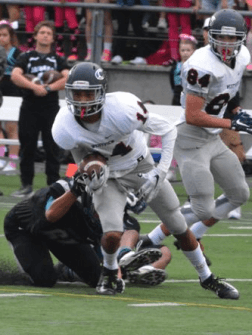 2016 Westview (Portland, Or.) WR Samori Touré is one of the most productive wideouts in the Pacific Northwest and he's the leader of an offense that is averaging 39.5 points per game.
The 6'3", 175-pound wideout has attracted attention from several schools and he received an offer during the spring and he's hopeful for more opportunities in the coming weeks and months.
"I got offered by Air Force back in the spring," Touré told Northwest Elite Index recently. "I haven't been out there to see them yet, but I am probably going to set up my official visit there after my season just so I can see what it is like there."
In addition to his offer from the Falcons, Touré has also been hearing from a handful of other programs who are in the midst of making their evaluation of him.
"I have been hearing from Utah State, Eastern Washington, Portland State, Hawaii and Army," Touré noted. "I've been to pretty much every Portland State game so far this season and they are interested, but they are still evaluating me so I am just being patient."
Westview finished their regular season with a 6-4 record and Toure' was a big reason why as he finished with 68 receptions for 1,225 yards and 15 touchdowns.
"I think of myself more of an after-the-catch type as a receiver," Touré said. "I can be a possession type receiver at times too though.
"A big reason, I think, why I am so good with the ball in my hands is my speed and I also have the ability to make guys miss in the open field."
It's hard to understand why a receiver as productive and athletic as Touré has been unable to garner more offers to this point, however, if the right opportunity presents itself, whoever gets him could wind up with a real gem down the road.
Westview takes on Lake Oswego in the first round of the state playoffs this coming Friday night.