Click for Riley Krenz Highlights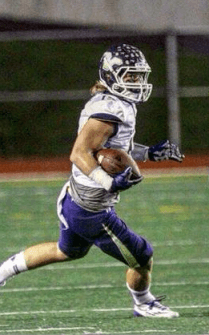 Because he plays with arguably the top senior quarterback in the nation, Lake Stevens (Wa.) WR Riley Krenz doesn't get the recognition he deserves, however, he does have a few schools that seem to be interested.
"Right now, it's mainly just a lot of interest, but not offers yet," Krenz told Northwest Elite Index. "I have had communication with coaches over direct messages (on social media) and received tickets to games like to Washington State and Washington. I have also built a relationship with the Eastern Washington wide receivers coach (Nicholas Edwards).
"They all love my film and tell me to keep up the good work, but no school has pulled the trigger yet."
Krenz also noted that he has been talking with Portland State and Idaho State as well.
At 5'11" and 196 pounds, Krenz is a solidly built wide receiver with enough speed to play outside, but he does most of his damage out of the slot where he led the Vikings as a junior with 49 receptions for 706 yards and 11 scores.
His senior season is on the same pace — 34 receptions for 662 yards and eight touchdowns, as his quarterback, Georgia commit Jacob Eason, likes to spread the ball around to different receivers.
"I've always been a receiver who runs great routes and take pride in that," Krenz said. "This past offseason, I tried to always improve in that area, but I really just tried to become a smarter football player, through a lot of 7-on-7 work and camp stuff.
"I worked on finding holes in coverages and knowing how to run routes in certain situations. I think it's helped me become a better player this year by being more creative and unpredictable on where I'm going to settle and run my route."
For the past two years, Krenz has been one of the top wideouts in the Pacific Northwest and that hasn't changed. Now he just needs to find the right collegiate opportunity. He's a very good leader and locker room guy, so whoever finally offers him a chance to play, that school will get a leader both on and off the field as well.
Lake Stevens, 9-0, will take on Tahoma (Maple Valley) this Friday night in the first round of the state playoffs.