Click for John Bledsoe Highlights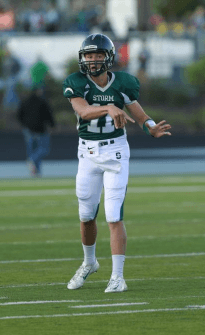 Junior Summit (Bend, Or.) QB John Bledsoe is one of the top 2017 signal-callers in the Pacific Northwest. So far he's led his team to a 10-1 record and they have a big game this weekend in the third round of the state playoffs.
With a name like Bledsoe, most expect you to throw the rock around a little bit and former Washington State and New England Patriots QB Drew Bledsoe's son does just that, although he doesn't put up the big numbers you see a lot of top quarterback prospects post due to a very balanced offensive attack.
"I'm more of a pocket guy," Bledsoe told Northwest Elite Index recently when we asked him what type of a quarterback he considers himself to be. "On the field I like to stay in the pocket and deliver the ball on time.
"This year I have moved around in the pocket much better and that has allowed me to limit some of the hits and sacks I have taken as well."
So far this season, Bledsoe has completed 139 of his 217 pass attempts for 2,0845 yards while throwing for 25 touchdowns and just two interceptions. He also got out and used his legs a bit too, rushing for 110 yards and six more scores.
During the offseason, Bledsoe worked hard on adding some size to his frame while also throwing routes with his brother and teammates.
"I lifted four times a week in our weight program to limit injuries and to get stronger," Bledsoe noted. "I also threw the ball with my little brother and met up with my receivers to work on routes and timing."
On the recruiting front, things are just starting to pick up steam for the 6'2", 195-pounder, but so far it's mainly just been letters and a few phone calls.
"I've been hearing from Washington State, Washington, Oregon State and Michigan State the most so far," Bledsoe said. "I've also gotten some stuff from Cal and Missouri, but so far it's just been getting mail and talking to a few of the coaches."
Bledsoe was busy on the camp circuit this past spring and summer and he has that same itinerary in mind for this offseason, but he has yet to really get serious about planning which ones he will attend.
"Last summer I hit two of the Nike Camps – Oakland and Eugene – and then we had our team camp at Oregon and I also attended Washington's (Rising Stars) camp," Bledsoe sad. "This season I will definitely do the Nike Camps again, but I am not sure which others I will go to."
Summit takes on Crater High School in the third round of the state playoffs.
Northwest Elite Index will continue to follow Bledsoe and his progress through the recruiting process and we will update news on him as it happens.