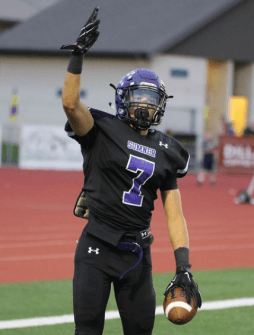 One of the state's top two-way athletes in the 2018 recruiting class from the State of Washington is Tre Weed of Sumner High School.
This past season, Weed was voted All-SPSL 3A by the conference's coaches for his work at both WR and DB, and really does enjoy playing either side.
"I was very excited to hear I was All-SPSL," Weed told Northwest Elite Index. "I'm going to strive to make first team All-SPSL next year by working harder and training harder.
"I love being a play maker on both sides. I love scoring touchdowns and being a lock down corner on coach [Keith] Ross' black flag defense."
Receivers don't get many chances to shine in Sumner's run-heavy split-back set, but Weed managed to finish his sophomore campaign with 25 catches for 435 yards and 7 TDs, as well as 200 yards rushing and two TDs. He also had 25 tackles and two INTs from his CB spot.
Many see Weed projecting to the next level offensively, but he really does a nice job on defense and will be playing his offseason 7on7 with Rise Football.
"I'm getting great training from Reggie jones and his staff," Weed said. "They push us hard. I have a couple of teammates from Sumner on the team so it makes it fun and we keep pushing each other."
Weed is a veteran on a young Rise Football squad, having logged major playing time last season for the BFA Underclassmen team.
"I'll bring leadership, energy, competition, and hard work to the team," Weed noted. "Playing for Barton's underclassman team prepared me for the tournaments. I've seen the competition there , it is very good, and that should help me with this upcoming year.
This is an important offseason for Weed as he looks to really put his name on the map. He currently sports a 3.6 GPA and plans to run track this spring.
"I plan on doing track to get my speed up," Weed said. "My goal is to make it to the next level, I'm dedicated on the field and in the classroom."
Time will tell with Weed, but he has the early look of a college athlete.
We will keep you updated on his progress when news becomes available.