Click for Max Nauer Highlights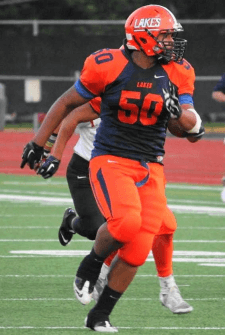 2016 Lakes (Lakewood, Wa.) OL/DL Maxwell Nauer was a two-way star for the Lancers this past season. He was so good, he earned First Team All-State honors from the Associated Press and now he's got a couple of schools after him.
"It was a great honor getting the recognition as an All-State player," Nauer told Northwest Elite Index over the holidays. "I think I played well and I felt like I left everything on the field every Friday night, but at the end of the day, my team is what I cared about more than myself."
As a senior, the 6'1″, 260-pounder started at guard on offense while playing both inside and outside along the defensive line where he finished with 58 tackles, eight tackles-for-loss and two sacks.
"I prefer defense, but I will play either one," Nauer noted. "The reason I like defense more is that I love going after the ball carrier, making big tackles and plays and just punishing offenses.
"I also like helping my teammates make big plays as well."
On the recruiting front, Nauer is still waiting for an offer, but he's got two programs showing him a lot of interest.
"So far Western Oregon and Saint Mary's are the two schools that like me the most and are the ones that have been in contact with me the most," Nauer said. "They both have talked to me about visiting in January, but so far I haven't set up a visit yet.
"They haven't told me which position they like me at, but, like I said, I will play anything they want me to."
While his future is still coming into focus, Nauer already has a plan for what he wants to work on this offseason to help him improve.
"I think everyone has room for improvement," Nauer said. "For me it's always been my speed and getting faster everyday. I also want to get stronger, have better get-offs, a better mindset for the game and developing better hands and moves to get off blocks."
Nauer won't blow you away with his physical skills, but what he does bring to the table is a non-stop motor and the ability and willingness to do whatever it takes to be successful. His coaching staff has lauded his leadership skills and wherever he winds up, he should be able to find a niche and become an asset in whatever role he winds up with at the next level.