Click for Marques Hampton Highlights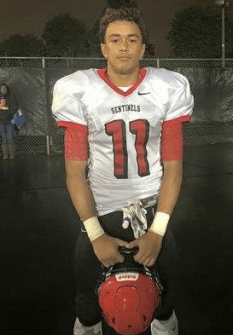 While his team finished just 5-6 last season, 2017 Steilacoom (Wa.) WR Marques Hampton Jr. is a player that has to have the Sentinel faithful excited.
As a junior this past season, Hampton Jr. hauled in a 47 receptions for 884 yards and seven touchdowns, leading his team in all three categories. He also starred on the defensive side of the ball as well, totaling over 40 tackles and five interceptions from his defensive back spot.
"I typically played outside (on offense), but I was used in the slot a little bit too," Hampton Jr. told Northwest Elite Index. "I really excel when the ball is in the air. I love the jump ball."
This offseason, the 6-0, 180-pounder has plans to work on several aspects of his game including something many think he already is elite in.
"I'm definitely working on my route-running," Hampton Jr. noted. "I'm also working on my catching ability, spending time catching a lot of passes, and my speed.
"I've also been working on my strength and conditioning, trying to get in and out of my breaks and creating separation."
So far, recruiting is still in its infancy for Hampton Jr. as he's only heard from Eastern Washington, but he hopes by attending camps like he did last year will help him this coming spring and summer.
"Last year I attended the Barton Combine, FBU, Team USA Regional and National camps, the Boise State camp and the Washington camp," Hampton Jr. said. "This year, I already know I'm planning to attend the Opening Regional event in June, the Northwest Elite camp and really an schools that are showing me interest.
"I had a good experience at the camps I went to last year and I want to go to more this year.
"I really am looking for any opportunity to show that I can play."
Because he plays for a small school, Hampton Jr. will have to show that he can perform against upper-tier competition. With his size, leaping ability and soft hands, the senior-to-be has the chance to really open some eyes this offseason and it will be interesting to follow his progress over the next year.