Click for Sean Reemts Highlights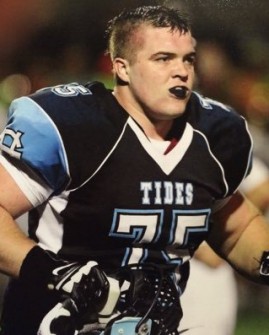 Gig Harbor's 2015 football team was full of names most football fans around the state would know, but one flying completely under the radar is offensive lineman Sean Reemts.
The 6-foot-3, 290 pounder was voted first team All-Narrows and second team All-Area by the Tacoma News Tribune, after helping the Tides to a 10-1 record, and a Narrows League Championship.
"It was an amazing feeling to be blessed with such an honor," Reemts told Northwest Elite Index. "With working everyday in the off season and striving to be the best football player I could possibly be. To be given such an honor I was ecstatic, I couldn't have done it without my whole team and my coaches pushing me everyday to strive for greatness."
Reemts has always had a great frame for an offensive lineman, but was never able to put on the needed weight until he fully dedicated himself to the weight room.
"I am proud of is my work ethic in the gym, on the field, and in the classroom," Reemts said. "I always aim to improve in all of these especially in the classroom. A weakness of mine is that I am very critical of myself and my play, a result of this being I am very objective with film and will constantly aim to improve any mistakes."
Recruiting has been on the slow slide for Reemts, seeing interest from mostly D3 and NAIA schools, but has seen some interest from Northern Colorado of the Big Sky.
While Reemts played LT for Gig Harbor, he projects inside to guard or even center, and is excited about the possibility on playing the interior.
"I love being projected on the inside," Reemts noted. "I played guard a little in preseason practices my junior year and loved it but my coaches wanted me at left tackle. I enjoy being really physical with my play and playing guard is just that, making it sound perfect to me.
"I have never played Center before, but I am open to it and would be more than happy to make the transition. It would just be an obstacle to overcome but I'm sure with practice, snapping would become second nature."
Reemts is a punishing run blocker, playing with that certain level of aggression you like from your interior linemen and shows good technique in pass protection.
Time will tell for Reemts, and NEI will keep you updated when news becomes available.