Click for Elijah Piper Highlights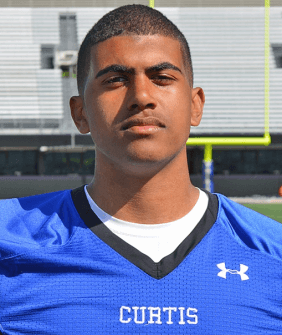 2016 Curtis (University Place, Wa.) DT Elijah Piper will be racking up the frequent flyer miles over the next few weeks as he hits the road for at least two official visits as he draws near to a decision on where he will play in 2016.
"I have offers right now from Montana State, they are my most recent one, and then Eastern Washington, Idaho, Fresno State and Hawaii," Piper told Northwest Elite Index recently. "I have official visits set up with Eastern (January 8th) and Fresno State (January 15th).
"I'm still having trouble figuring out those last two weekends, so I don't know if I will visit anyone or not, but I'm still trying to work things out for those weekends."
As a senior this season, Piper was a First Team All-SPSL selection on both sides of the ball while also being named the Lineman of the Year as well.
"I thought I played pretty well," Piper noted. "It was a real honor to be voted (by the league coaches) as the top lineman on both sides of the ball too."
As far as a timeline for a decision on where he will play this coming fall, Piper hasn't set a date, but he has thought about the criteria he will be considering as he narrows things down.
"The first thing is my positional coach," Piper said. "I want to see how I connect with him and also see what my teammates are like and who would be playing with me.
"I also want to find a school that has a good physiology or kinesiology program."
At 6'4″, 280 pounds, Piper is a handful along the defensive line and that is where most schools see him, however, Eastern Washington has said that, while they will leave the decision to him, they see him being a better fit on the offensive side of the ball.
NEI will continue to keep track of Piper's progress and we'll update news on him as it happens.