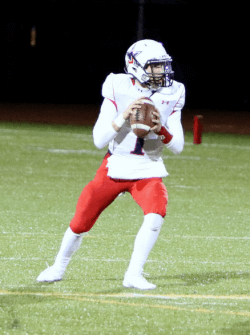 One of the top QB's in the State of Washington without an offer is Tavin Montgomery of Juanita High School in Kirkland.
Montgomery's junior season was cut short due to injury, although he was still named honorable mention All-Kingco, but he rebounded in a major way with a tremendous senior season, capped off with a first team All-League award.
"It was an amazing feeling to finally be labeled as first team All-Kingco," Montgomery told Northwest Elite Index. "I wouldn't have gotten anything without my offensive line, amazing teammates to push me to be better everyday and a wonderful coaching staff to back me up."
This was the fourth consecutive year Montgomery was named All-Kingco, after garnering honorable mention his freshman year, and second team his sophomore season.
At six-foot and 175 pounds, Montgomery might not have prototypical size, but at the end of the day he wins games. He has compiled a record of 27-7, while breaking every game, season and career passing record in Juanita history.
The term dual-threat is tossed around recruiting circles a lot, and Montgomery has the ability to beat you with his arm and legs, but he also has the ability to beat you with his mind. During the inaugural Northwest 9, Montgomery shredded defenses during the 7-on-7 sessions, and finished the competition ranked fifth.
"The Northwest 9 was a great experience and I would highly recommend it to any quarterback living in the Northwest," Montgomery said. "Taylor and his great coaching staff made it a very fun and enjoyable camp with a lot of great advice to take back to my team. I love to compete and it was a great experience to go head to head with some of the best QBs in the state.
"Overall the camp was a confidence booster that taught me how to be a better leader and how to be an example for my community."
Even with his success, Montgomery has flown relatively under-the-radar. He is currently hearing from D2 schools Central Washington and South Dakota School of Mines. The majority of his interest is from the NAIA level with Montana Tech, Jamestown University and Carroll College, while local D3 schools Linfield and Puget Sound University have shown interest as of late.
Montgomery is currently in the midst of his third season on the Juanita basketball team, while also maintaining a 3.4 GPA.
We will keep you updated on Montgomery as we move closer to his final decision.