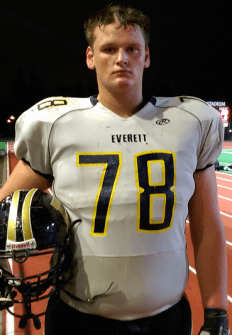 One of the more intriguing prospects from the State of Washington is 2016 OL Nick Blair of Everett High School.
Standing close to 6-foot-7, with a 6-foot-9 wingspan, and weighing 310 pounds, Blair instantly jumps out when watching game film, but recruiting had been slow until recently.
Blair is set to take an official visit to Eastern Washington on January 15th, and tentatively has Portland State schedules for January 22nd. Washington State has offered him a preferred walk-on spot, and he says he is also hearing from Idaho State, Western Oregon and various D3 programs from around the Pacific Northwest.
Interest has steadily risen as Blair went through his senior season, which culminated with a first team All-Wesco award.
"It was a great honor to be selected first team All-Wesco," Blair told Northwest Elite Index. "I worked hard since last year when I was not selected and felt I wanted to prove my worth. It shows how much I have worked to get to this point and how much more I am wiling to work on the next level."
And willing to work is what Blair has proved. While 310 pounds may sound like a lot to some, it is actually slim look on Blair's hulking frame, and something that took some serious dedication to achieve. At the end of his sophomore season, Blair weighed in around 370, and slowly got down to 350 for his junior season, but that still wasn't good enough for college coaches.
"It was at the end of my junior year when coaches came to see me and told me I was to heavy for them," Blair said. "If I really wanted to play at the next level they needed to see if I was committed and had the heart to lose weight. At that point I really disciplined myself in watching what I was eating, cutting out sugars and carbs and worked on my cardio.
"From June 2015 – September 2015 at the start of football season I lost 40lbs and started my season around 310. Having the extra weight off was really instrumental in helping me have my best season yet."
In a few months Blair will once again join Everett's Track and Field team, last season he placed 3rd in the discus and 5th in the shot at the state tournament. He currently sports a 3.6 GPA while attending AP courses in Calculus, Physics and English.
Blair's best days are ahead of him, as he is still fairly raw and is very coachable. He really started to show a nasty side during his senior season, and his potential is through the roof.
We will keep you updated on Blair and let you know when news becomes available.