Click for Rod Jones Highlights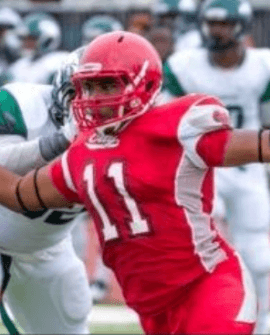 2016 City College of San Francisco DE/LB Rod Jones Jr. was a monster for the Rams this past season earning CCCAA First Team All-American as well as State Defensive Player of the Year honors while helping to lead his team to a 12-1 record and the National Championship.
"I had a really good season," Jones Jr. told Northwest Elite Index shortly after receiving the honors. "We did as a team too. Without my teammates, I couldn't have done what I was able to do and I'm thankful for all they did to help me and my coaches too. They really helped me out too."
With 53 tackles, 16.5 sacks, 26 tackles-for-loss, four forced fumbles and two fumble recoveries, Jones really filled up the stat sheet and he was recognized as the Defensive Player of the Year for his efforts.
"It was a great honor and one I felt like I deserved, but there are so many great players in our state, it was unbelievable to get that honor," Jones Jr. noted. "When I came to City, I had never put my hand on the ground, so it was a bit of an adjustment for me. In high school, I had only played linebacker so it was different, but my coaches worked with me and I never stopped working on getting better and it ultimately paid off."
Besides his outstandng work ethic, Jones Jr. also turned to his father and a higher power, whom he relied on for support and strength.
"My faith in God and my family have been a big reason why I am where I am today," Jones Jr. said. "I definitely couldn't have done it without those two things.
"Also, my dad (Rod Sr.), he's been there the whole time. Coaching me and helping me become a better person and player. He played for Washington in college and then in the NFL, so he knows what it takes to be successful and he instilled that in me from a young age and I will never forget the lessons he taught me.
"My dad also got me focused on the right things in school. I wasn't taking the right classes to be successful after football was done, so I changed my major and my dad as a big reason for that."
On the recruiting front, things have been a bit on the slow side, especially when you consider what he can do on the football field. However, he does have a couple of offers and more schools are giving him a look and waiting on his transcripts.
"I have offers right now from Florida A&M and Texas State, but with Texas State, they just hired a new staff so I'm not really sure where things stand with them right now," Jones Jr. acknowledged. "Southern Illinois wants me to come out for an official visit, so I'm going there next weekend (1/15) and Weber State is waiting for my grades.
"The other two schools talking to me are Indiana State and Incarnate Word which is a school in Texas. I don't have offers from them yet, but they are looking at me too."
Jones attended Federal Way (Wa.) High School and was a non-qualifier, so he headed to the Bay Area to get his academics in order and to earn a scholarship once those got fixed.
He played as a true freshman in 2013 and then redshirted in 2014, so once he finishes up his two-year degree in May he will have two years to play two starting this fall.