Click for Gavin Crow Highlights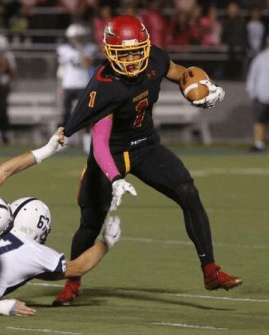 While helping to lead his team to a 8-3 record and into the first round of the state playoffs, 2016 Kamiakin (Kennewick, Wa.) ATH Gavin Crow was a star on both sides of the ball and he's ready to take his game to Montana to help the Grizzly stop unit as well.
"I've been hearing from a few schools and Montana State just offered me, but I am happy with my decision to commit to Montana," Crow said. "(New Montana State defensive coordinator) Ty Gregorak left UM to go to MSU and he wants me to go with him, but like I said, I'm happy with my decision to commit to Montana.
"I love the coaches, the stadium and the atmosphere there."
Crow said he plans to take only one official visit, to Montana on January 22nd.
The 6'1, 195 senior was a standout on both sides of the ball of the Braves last season, but the defensive side of the ball is where he sees himself playing once he gets to campus.
"I just want to help my team whatever way that I can, so I would play either one (offense or defense), but I think defense is where I will play," Crow said. "I feel like the game comes more natural to me on that side of the ball.
"I have been playing defense all my life, so I really only started playing offense this past season."
From his defensive back spot, Crow totaled 65 tackles and six pass breakups and on offense, while he didn't have all of his stats, he played three positions — running back, receiver and tight end — and was named his league's Offensive Player of the Year for his efforts.
"I would say I have really good ball skills and instincts," Crow said. "I'm working on all aspects of my game and I know I will need to get stronger for the next level, so that's my focus this offseason."
Crow is one of the more underrated prospects in the state and one of the top and most versatile from the east side of the mountains. He should be able to make an early impact at Montana once he arrives and could be a three-year starter if he develops like we think he can.