Click for Davine Tullis Highlights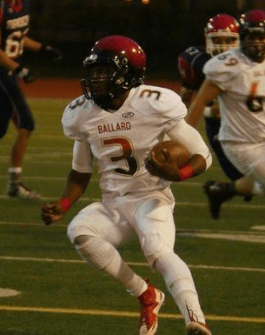 As a senior this past season, 2016 Ballard (Wa.) QB Davine Tullis showed his value by practically willing his team into the state playoffs and now recruiting has taken center stage and he has a few options already in front of him.
"Right now I have offers from Montana State, Idaho State and Hawaii and I've been talking to Portland State and Wyoming a little too," Tullis told Northwest Elite Index recently. "I'm visiting Hawaii this weekend, Montana State on the 22nd (of January) and Idaho on the 29th (of January)."
As a senior this past season, Tullis, a super-athletic 6'2, 195-pounder threw for nearly 2,000 yards with 15 touchdowns and six interceptions while rushing for close to 1,000 yards and nine more touchdowns, earning Metro 3A Offensive Player of the Year honors.
"I'm calm under pressure and I love to compete," Tullis noted. "Honestly, I take pride in my leadership skills. It's something that I think I am very good at."
While he's great with the ball in his hands, most schools are recruiting him as an athlete who can play on either side of the ball.
"I'm fine with playing anything they need me to play," Tullis said. "I'll be working a lot at wide receiver and defensive back this offseason."
As far as what he's looking for when he goes to make his decision later this month, Tullis had a few thoughts on the subject.
"A big thing will be which position they see me playing, because I'm being recruiting as an athlete," Tullis said. "I'm looking for a school with a good business program too and I just want the school that fits me the most and will give me the best college experience."
NEI will have more from Tullis after he completes his visits and we will updates news on him as it happens.Click for Davine Tullis Highlights