Click for Caleb Weber Highlights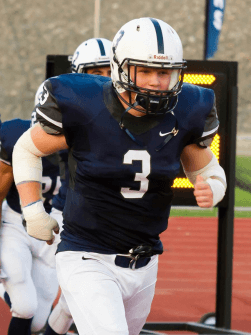 One player who defines the term Student/Athlete is Chiawana (Pasco, Wa.) LB Caleb Weber. After a very good junior season, the talented prospect has drawn attention from several Ivy League programs and he's hoping to earn some scholarships from FBS schools this spring.
As a junior this past season, Weber finished second in the Mid-Columbia league with over 90 tackles (65 solo) to go along with four sacks and two fumble recoveries.
Weber started as a sophomore as well, leading his team and the Mid-Columbia with over 100 tackles while helping to lead his team to the state finals where they lost to Bothell.
"I like to hit. That's the biggest thing for me," Weber told Northwest Elite Index recently. "I play a physical brand of football. I love to fill the hole and play the run, but I can also drop back pretty well too. That was something that my coaches asked me to do several times this season.
"A lot of times, I had to take the slot vertical and that's something I showed I could do, but for the most part, I like to stop the run and get in there and be physical at the point of attack."
While he's an accomplished player already, Weber isn't resting on his laurels, choosing to hit the gym in order to improve every aspect of his game.
"I've been working with a new trainer — Brian Rackley — and he's been working with me a lot on my hips and my hand speed as well as my regular speed and I'm already seeing some nice results," Weber noted.
As far as recruiting is concerned, Weber has been hearing from several schools and already has a couple offers and several more programs interested in what he has to offer.
"I have offers right now from the Coast Guard, Penn and Lewis and Clark," Weber said. "I have talked to several of the other Ivy League schools and I must have over 400 letters from Pac 12 schools right now, and I've also been getting mail from Notre Dame and Nebraska."
Weber said he plans to take in camps around the region including the Barton camp, the Northwest Elite camp, the Washington and Washington State camps and then I've been invited to several Ivy League camps — Penn, Dartmouth, Cornell and Princeton — so he will definitely be busy this summer.
Also keeping the 6'2″, 227-pounder busy is a full academic load at Washington State University where he is part of the Running Start program.
"I take a full class load at Washington State and when I graduate (from Chiawana), wherever I go, I will be, academically, a junior," Weber said. "I'll still have all of my eligibility for football, but I will be way ahead on my academics which is something I really wanted to be when I finished up high school."
NEI will have more on Weber in the coming weeks and months as he really gets into the recruiting process and we will update news on him as it happens.