Click for Kyle Olson-Urbon Highlights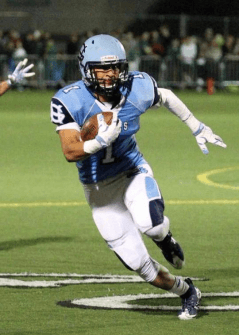 *Update* Since this article was posted, Olson-Urbon has been offered by Liberty University in Lynchburg, Virginia.
Great news from across the Narrows where Gig Harbor (Wash.) WR Kyle Olson-Urbon was offered by Eastern Washington University.
"Receiving my first D1 offer was a huge honor," Olson-Urbon told Northwest Elite Index. "The fact that it came from a powerhouse like Eastern was a huge compliment to me."
Olson-Urbon has offers from smaller schools and is seeing considerable D2 interest from the likes of Central Washington and Humboldt State, but when Eastern Washington wants a player, they send in the big guns.
"Head coach Beau Baldwin came to my school Wednesday," Olson-Urbon said. "They told me they were looking over all the Washington kids again and when he watched my film again he knew he needed to come see me."
An official visit for Olson-Urbon is currently scheduled for January 29th, but this wont be the first time he has visited the campus.
"Over the summer I went to Eastern's football camp," Olson-Urbon noted. "I got to look around and spend time with Coach [Nick] Edwards and really liked the feel of it."
This offer could open up a few more offers for Olson-Urbon, who has been hearing from a few other schools within the Big Sky Conference.
Olson-Urbon is one of the state's more polished receivers, finishing last season with 63 catches for 1,125 yards and 18 TD's in just 11 games. Following the season he was voted first team All-Narrows by the league's coaches, and All-State by the Associated Press.
He is a three sport athlete, currently participating in Basketball and will run track in the spring, all while carrying a 3.2 GPA.
Over the past two years Olson-Urbon has made a name for himself in the 7-on-7 world as one of the better receivers. He twice competed for the Barton Football Academy's top team, and was a key member of the squad that finished in the Elite Eight finish at the 101-team Pylon National Tournament. This past spring he also helped Gig Harbor to it's second straight Battle In Seattle tournament win, once again beating the NW Alumni team of D1 signees.
We will keep you updated on Olson-Urbon as we inch closer to signing day, and will have any news when it becomes available.