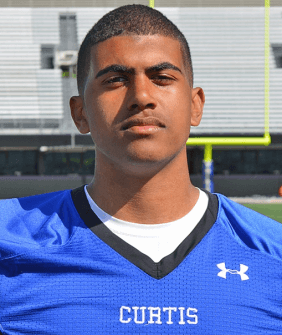 2016 Curtis (University Place, Wa.) DL/OL Elijah Piper took an official visit to Fresno State a little over a week ago and, after thinking things over and discussing it with his parents, the talented prospect has made his decision.
"They have one of the top kinesiology programs in the country and I thought they were the best program that offered me," Piper said of his decision to commit to Fresno State. "I just thought about it and loved it and prayed about it and felt it was the right thing to do and it gave me the best opportunity to play in the NFL."
Piper actually made his commitment to FSU when head coach Tim DeRuyter was in his home for a visit.
"He was really excited," Piper recalled. "He jumped up off the couch and gave me a big hug."
Piper chose the Bulldogs over offers from Montana State, Eastern Washington, Idaho and Hawaii.
As a senior this season, Piper was a First Team All-SPSL selection on both sides of the ball while also being named the Lineman of the Year as well.
"I thought I played pretty well," Piper noted. "It was a real honor to be voted (by the league coaches) as the top lineman on both sides of the ball too."
Piper will sign his letter-of-intent next Wednesday, February 3rd, and he said he has no plans to take any further visits.