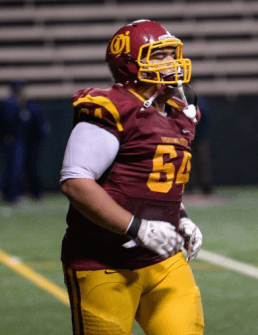 Great news out of the Emerald City where hulking lineman Tiano Tialavea of O'Dea High School received an offer from the University of Texas – El Paso.
The 6-foot-4, 330 pounder had offers from smaller colleges and preferred walk-on spots to FBS schools, but this was the long awaited offer he had been searching for.
"This feeling I'm having is like something I've never experienced," Tialavea told Northwest Elite Index. "My dream of playing D1 football has come true. If anyone knows who I am, they know all I've ever worried about is my future with football."
Tialavea had a tremendous 2015 offseason, bolting up recruiting ranks from a virtual unknown to now being a D1 offered athlete, but it wasn't easy. Before his senior season he suffered a broken foot that kept him out for the first six weeks of the regular season. When he returned, Tialavea was only able to put together four games worth of film before the Fighting Irish ended their season.
Because of so much missed time, recruiting was slow, but Tialavea was still seeing interest from several D1 schools. Things really picked up in December when coach Brian Natkin of UTEP made his first in home visit. A second in home visit occurred about a week ago and the pieces really fell into place starting yesterday.
"I got a call from Coach Natkin," Tialavea said. "He said 'Hey TT, I'll be coming in tomorrow morning to see you. I'm with Coach [Sean] Kugler and Coach [Andrew] Browning.'
"They came into O'Dea for a visit and the first thing Coach Kugler said was 'You have a full ride scholarship with us at UTEP.' "
Tialavea has an official visit scheduled to El Paso this weekend, and is eager to get things underway.
"I am more than excited for this weekend," Tialavea noted. "I love the coaching staff and I'm excited to see what it's like out in El Paso."
Signing day is just over a week away, and we will keep you updated on Tialavea as we move closer.