Click for Jared Goldwire Highlights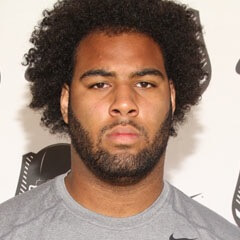 2016 Kentwood (Kent, Wa.) OL/DL Jared Goldwire is one of the more physically gifted athletes in the state of Washington, but it hasn't been until recently that recruiting has started to hit its stride.
"I just got an offer from UTEP the other day," Goldwire told Northwest Elite Index. "I had one from Hawaii for a while, but once the old staff was let go, I didn't have one anymore.
"I am still talking to Hawaii though and I have also had some contact with New Mexico and Missouri, but so far, UTEP is my only offer and I am visiting there this weekend."
As far as if he'll commit on or shortly after his trip to El Paso, Goldwire is unsure, but he's open to the possibility.
"A lot will depend on how things go down there," Goldwire said. "If I feel comfortable and I feel like I can play there and I feel good about the staff and the players, I might commit and just sign next week, but I am open to not signing right away and waiting a little bit to see what else is out there."
At nearly 6'7″ and weighing just over 290 pounds, Goldwire has the prototypical frame to be a dominating left tackle, but because his heart lay on the other side of the ball, it wasn't until his senior year that he realized his full potential.
"I needed to mature. There's not doubt about it," Goldwire said. "A lot of people were saying to me that I needed to play tackle and that I fit that mold perfectly, but I wanted to play defensive tackle, that's where I thought I would fit best and where my heart was, but after talking with my dad and my coaches this past offseason, they said I would fit best on the offensive line, so I put all of my effort into it and I feel like I had the best season and the most fun I have had as a player since I got into high school."
One of the biggest motivations was his new head coach, Mike Bush.
"Coach (Rex) Norris was a great coach, but when coach Bush took over for him (Norris stepped down to focus on his family), I really started to listen better and he worked on me all year to be the leader I needed to be," Goldwire noted. "He got my emotiona, physical and mental side all to come together and I feel like I had a good season because of where my head and my heart was.
"He's also been working with me this offseason, just helping me grow as a man even though I'm not even going to be playing for him anymore."
We'll have more on Goldwire after his visit to UTEP and we will update news on him as it happens.