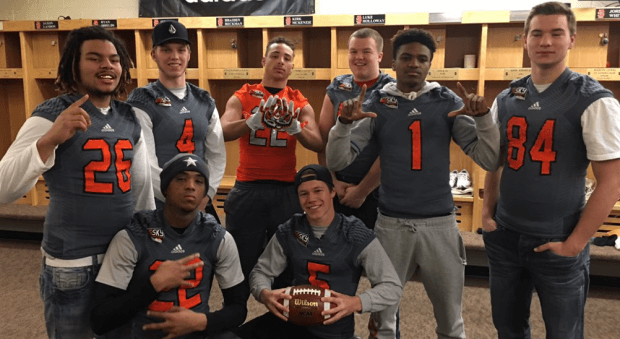 Over the past few months the Idaho State Bengals coaching staff has been very active in the State of Washington, and picked up a six-pack of athletes in the last few days and seven in just over a week.
Former Offensive Coordinator Sheldon Cross was responsible for recruiting Western Washington and had been doing a tremendous job, but has since moved on to become Head Coach at Kennedy Catholic (Burien, Wa.) High School. Give a lot of credit to the Bengal coaches for finishing the job Cross had started.
Head coach Mike Kramer has strong ties to this state and has made it very clear that the Bengals will be a player in this area. The Bengals have picked up some steals in the past, with the likes of Tanner Gueller (W.F. West), Robert Kvinsland (Peninsula), Chris Reynolds (Foss), Tate Razor (Bellevue Christian), Micah Breland (Foster) and Braiden Beckman (Kentridge), and have grabbed a few more this year.
Northwest Elite Index caught up with all seven athletes who recently made their commitment. Below you will see a small profile, with analysis and quotes for each athlete.
Kenneth Turner
Thomas Jefferson High School
Linebacker – 6'2″ 220
Not many people knew Turner's name to start the 2015 season, but it didn't take long for him to insert his name in player of the week votes. Turner rushed for 1,600+ yards last season, helping Thomas Jefferson to their first outright league championship, but will take his talents to the defensive side of the ball and play middle linebacker.
Thomas Jefferson isn't a traditional power, but have produced D1 players in the past, including current Idaho State receiver KW Williams (2011), who played QB for the Raiders. Like Williams, Turner will focus more on another position, but you can expect him to come in and be an impact player before all is said and done.
From Turner:
Why ISU? – "Idaho State was the school that didn't listen to the hype, they saw me for the player they know I am and the one I can become. The Idaho State coaching staff has been so good to me, there's no other place I'd rather be."
Tell me about your official visit? – "Pocatello is actually a lot bigger than most of us thought it would be, it's a great town. Coach Kramer is the man, I felt like we clicked from the jump. Coach Cross who is now coaching at Kennedy High School helped me out a lot, and I'm so grateful for that. Coach Cooper, my LB coach has faith in me as much as I do, and that can only produce a better player. All of the players and coaches are great talents and amazing guys."
What should ISU fans look for? – "What most people don't understand is that a new wave of elite talent is coming to Pocatello. A few of us have played with and against eachother as far back as little league football. All of us had successful High School careers and are ready to shock the nation. So I would say, tell the fans to get ready for something they've never seen before."
Nate Shubert
Kamiak High School
Tight End – 6'4″ 215
Shubert is one of the State's top tight ends and does most of his damage split out at receiver, but isn't afraid to mix it up in the run game. With his size and athleticism, Shubert is very good in the air and can really go up and get the ball.
Upside is a word thrown around a lot in recruiting circles, and Shubert has plenty of upside to go around. Even though he looks good on film, he is still rather raw, which makes him one of the more intriguing prospects in the state.
From Shubert:
Why ISU? – "First, I'd have to say the players. I went into my official visit skeptical. This was my first visit, and I didn't know what to expect. I had already met a couple coaches and they were all amazing. It wasn't until this weekend that I had the opportunity to meet some other recruits and the players. Those guys were were some of the most fun and welcoming guys I've ever met. I meshed really well with the recruits on my trip, and I'm pumped to play with some of them next year. Our hosts were also super chill and really told us the behind the scenes about the program, which were all good things. I thought I could play really well with these guys, and it's a community I'd love to be a part of."
"I'd also have to say that ISU sets you up for success. They seem like a hard-ass kinda program that really focuses on academics. That's something I really look for because I want to build my knowledge and resume as well as my football ability while in college."
Tell me about your official visit? – "My official was one of my favorite experiences of my senior year so far. The coaches are outstanding. I immediately felt welcomed once I got off the plane and was met by Coach Cooper. They were easy to talk to and gave us straight answers which I really appreciated. Coach Kramer is one of the friendliest guys you'll ever meet, and it shows how much he cares about the program."
"The campus is nothing too special. There's a really nice set up with the rendezvous building, but the campus itself doesn't have amazing architecture or anything. That being said, the location of the campus is perfect. It is very close to many big attractions, such as Yellowstone National Park, Salt Lake City, and Boise. I think It's going to be easy to find stuff to do."
"I also found out that the football program does an amazing job on working with you on your academic interests. I want to major in engineering and they hooked me up with the academic advisor and let me ask all the questions I wanted. I learned a lot and think the academic aspect of the school will really benefit me in the future."
What should ISU fans look for? – "I think ISU fans are in for a treat the next couple of years. A lot of the recruits, including myself, were looked over. I'm not sure why, but other teams looked over us and ISU didn't I think ISU picked up some sleepers, and they're gonna be slept on these next coming years, but I'm telling you that I think we can do great things. Of course a goal of mine, and ISU is to win the Big Sky. It's a pretty big goal, but I have a feeling that we can do it."
Tristan Beard
Curtis High School
Wide Receiver – 6'2″ 190
Tristan Beard is another name that is unknown to many, but his film will make you a fan. He has the speed to be a downfield threat, runs nice routes and have very dependable hands. Beard has been an All-League athlete at both Wide Receiver and Linebacker.
Beard is a multi-sport athlete and will run track for the Vikings this spring, after many years of excelling in baseball and basketball. He is one of the hardest working athletes in the weight room, and is a great student.
From Beard:
Why ISU? – "I loved the campus atmosphere and also felt extremely welcomed by the football staff and family. Growing up with the love of the outdoors, the ISU campus and surroundings was a perfect fit for me."
Tell me about your official visit? – "First off, the head coach, Coach Kramer, was extremely welcoming and made me feel as if I would be a huge asset to the team. All the coaches were welcoming as well and were very relatable to me. For my specialization, the wide receiver coach, Coach Phenicie, was especially approachable and I am profusely excited to work with him."
"All of the players were very nice to me and I already felt like I was apart of the family. ISU provides the exact major that I want to pursue, which is Civil engineering and the campus has amazing views, which helped to draw me closer to my decision."
What should ISU fans look for? – "ISU fans can rely on me to do my best on and off the field even in times of intense pressure. My main goal is to be academically successful my entire duration of college. I also will strive to make my coaches, team, family, and community proud by pushing myself to the limits. I also desire to start as a true freshman and will give it my best effort to attain my goal."
Connor Smith
Issaquah High School
Defensive Line – 6'4″ 251
Connor is a high motor defensive lineman, that has the ability to play inside or outside. He was dominant in the state's best 4A league, and was awarded lineman of the year, as well as being first team All-League on both sides of the ball. He was also voted All-Area by the Seattle Times.
Smith has a great get-off and plays with a violent edge. He has a nice frame and has the ability to gain needed weight should he be asked to play inside full-time. One of his former coaches says, "Connor Smith is just scratching the surface of his potential. Underrated."
From Smith:
Why ISU? – "Just the whole feel of the school overall. I visited a lot of schools but it always felt like something was missing. At ISU I really felt like the fans would stand behind us and we really had the ability to build something special."
Tell me about your official visit? – "On my visit the first thing that stuck out to me was how much the staff cared. Talking to all of the coaches, they really seemed to believe in all of us recruits. It was unlike a lot of other schools where you felt like you'd get caught in the wash and be forgotten at times."
What should ISU fans look for? – "The fans should look for us recruits coming in and making an impact. Though not all of us will see the field our first year, we all committed to ISU for a reason. To win football games and truly build something special."
Raemo Trevino
Ballard High School
Defensive Line – 6'0″ 274
Raemo plays with high intensity and has one of the best first steps you will find. He has some of the fastest and powerful hands I have seen in this state. He is stout against the run, and is an accomplished pass rusher, that plays violent at times. He is a hardworker that leads by example on and off the field.
Trevino is one of the more fun athletes to interact with, and always has a smile on his face, but make no mistake, when it is time to get after it, Trevino can be downright nasty. I truly believe that if he was three inches taller, he would have Mountain West offers. Trevino is the only one of the seven committed that has yet to take his official visit.
From Trevino:
Why ISU? – "My family and myself really loved the coaching staff. It was the best fit for me academically and for my football career."
Tell me about your visit? – "My official visit is this Friday . I had a home visit with Coach Cross about two weeks ago and everything was great. I have a home visit this Thursday with Coach Kramer. I've talked to him over the phone and it was awesome, I loved what he was about for his players and overall of the team and coaching staff."
What should ISU fans look for? – "I'm going to come in ready to work everyday with a great work ethic. I'll be a great competitor who will come in and make everyone better. We will help turn the program around. I'm going to do what ever is asked from the coaching staff so we can win the Big Sky Conference and ultimately the national championship."
Caleb Brown
Tahoma High School
Defensive Back – 5'10" 170
Caleb Brown is a lockdown corner. He has game breaking speed and acceleration, and some of the most fluid hips I have seen. Brown has great ball skills and isn't afraid to step up and join in run support. Brown's most impressive attribute might be his mind, as he plays with a very high IQ.
Brown is badly under-recruited. Just speed alone he should be a hot commodity, but with his all-around talent great work ethic, it really is a mystery to me that he didn't see more attention. I fully expect Brown to be a big time player for the Bengals.
From Brown:
Why ISU? – "I loved the campus, plus being able to get free college is truly a blessing. I like Pocatello too. Its a nice college town that is bigger than I thought it would be."
Tell me about your visit? – "The school was beautiful. The area has all four seasons too, so there will be snow and heat. The coaches are very cool, and I love the DB coach and the defensive scheme. Plus coach Kramer is a cool dude."
What should ISU fans look for? – "From me ISU fans will get someone with closing speed and good feet for a corner. I believe I can go up and contend every ball thrown my way with my athletic ability, and I believe I am one of the smarter corners. I can anticipate routes based on frequent route combos out of certain formations, and understand different route stems. That is why I feel I am a great corner."
Andrew Grimes
Lake Stevens High School
Runningback – 5'10" 205
Andrew Grimes is the most under-recruited athlete in the 2016 class from Washington. At first I figured it was because Grimes was a runningback in a run heavy offense led by an SEC quarterback… But then I attended a game and really couldn't figure out why he was being overlooked. I saw Lake Stevens back-to-back weeks against two of the state's top teams, and no player from Lake Stevens stood out like Grimes.
Grimes has good speed, acceleration and great vision. He has the power to run between the tackles and speed to hit the edge. In two seasons, Grimes has rushed for over 3,300 yards and 51 touchdowns, while averaging nearly 9.5 yards per carry. He is also a very capable receiver out of the backfield, having caught 26 passes the last two years.
From Grimes:
Why ISU? – "I liked the coaching staff the most out of all the coaches I talked to. When I went there all the players were cool and the town is close to home. I also was told I could have a good chance of playing my freshman year and that really sparked my interest"
Tell me about your visit? – "Like I said before the coaches and players were cool and welcoming. The education program seems really good from what I've seen so far and getting a degree is one of my top priorities in college."
What should ISU fans look for? – "I expect to help uplift the program and get the most out of myself and my teammates around me. I'm looking to be a reliable back that my coaches can count on."