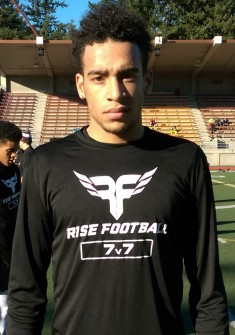 Great news from just beyond Puyallup's South Hill where Emerald Ridge receiver Andrew Boston has received an offer from Eastern Washington University.
Boston was an absolute force the last two seasons for the Jaguars, but hadn't seen a ton of interest. Tonight, he gets the call he had been dreaming of.
"It is very exiting," Boston told Northwest Elite Index. "It is a huge stress off my shoulders knowing I am for sure going to college. Now I can just worry about getting better knowing someone wants me to play for them.
"It was especially hard playing my junior year with such little interest, so this offer really is a major confidence boost."
His relationship with EWU goes back a ways. Following his freshman season Boston attended a USA Football camp at Archbishop Murphy HS. It was at that event he first met Eastern Washington WR coach Nick Edwards, who was the one that gave him today's news.
Boston has visited Eastern Washington's campus in the past, once with his team for a weekend camp, and this past July for a WR camp hosted by coach Edwards.
"I like Eastern's campus because it reminds me of where I am from in Nampa, Idaho." Boston said. "It is more of a small rural town with hot weather and it really is a beautiful campus."
The 6-foot-3, 185 pounder was first team All-SPSL last year as a WR, and 2nd team as a CB, after finishing his season with 62 catches for 956 yards and 7 TDs.
Boston has a long – lanky frame with plenty of room for growth. He is spending this offseason with the guys at Rise Football in Puyallup, and will be competing in multiple national 7-on-7 tournaments.
"I am proud to be on the Rise team," Boston noted. "We are all striving for the same goal and are really close. Being around the coaching staff is a lot of fun. They give us the keys to improving and really help us elevate our game to the next level."
I truly believe this is just a tip of the iceberg for Boston. He could be the state's top 2017 WR and will only see his interest grow from here on out. He is also receiving big interest from the University of Washington and Boise State, and he plans on attending camps at both schools this summer.
We will keep you updated on Boston and will have news when it becomes available.