Click for Devon Arbis-Jackson Highlights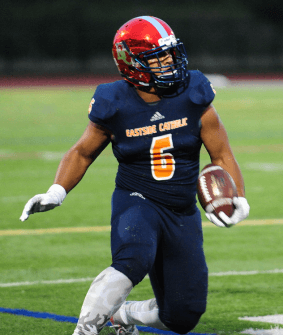 He's been a big part of two state title teams, but 2016 Eastside Catholic (Sammamish, Wa.) WR Devin Arbis-Jackson is still waiting on his first offer.
"I've been talking to a couple of schools here and there, but I had some grade issues, so most of them wanted to see how my winter quarter grades are before they move forward with me," Arbis-Jackson told Northwest Elite Index recently. "My grades are in better shape now and I just took the SAT, so I'm taking care of things, but for a while there, I was letting things in my family and some other personal situations take over and that is why I sorta got behind academically."
The schools recruiting Arbis-Jackson include Central Washington, Washington, Washington State, Arizona State, Colorado, San Jose State and New Mexico.
As a three-year starter for the Crusaders, Arbis-Jackson has totaled 175 receptions for nearly 3,600 yards and 35 touchdowns, numbers that put him at or near the top of the most prolific receivers in the state during that timeframe.
"I feel like I'm better with the ball in my hands," Arbis-Jackson noted. "I have good vision and, with my size, I can break tackles pretty well. I don't go down with the first hit, so that is a big thing I take pride in."
At 5'11", 225 pounds, Arbis-Jackson is built more like a tailback and he knows he can work on trimming down a bit, but he's got soft hands and can be used in myriad ways including out of the slot or even out of the backfield as a third-down back.
"I'll do whatever I can to get on the field," Arbis-Jackson said. "I just want an opportunity to play ball at the next level."
Arbis-Jackson is a good locker room guy, someone that others look to for leadership, but he's also gotten it done at the highest level in prep football against some of the top talent, not only in the state, but also the country.
He's not the prototypical wideout from a size standpoint, but he's strong with the ball in his hands and he can be a real asset if he finds the right fit at the next level. Once his grades are in and schools get a look at his transcripts and SAT scores, he should see things start to pick up and he could be a real steal for the school that decides to take a chance on him.