Click for Naoki Harmer Highlights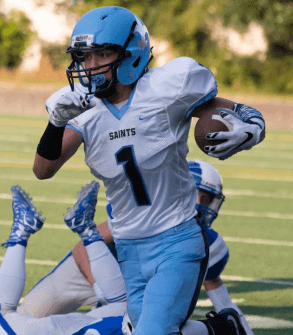 While he may not be a household name, Interlake (Bellevue, Wa.) ATH Naoki Harmer has shown flashes early in his high school career.
Harmer doesn't have prototypical size at only 5-foot-10 and 160 pounds, but he is one of the better playmakers in the always-tough Kingco Conference.
Last season Harmer was buzzing right along until an injury derailed a very promising junior year.
"I was injured in the third game of the season against liberty," Harmer told Northwest Elite Index. "I was playing both sides of the ball, wide receiver and for defense switched from corner back to safety to be more of a run stopper for Liberty's offense. There was a fumble in our redzone and when I quickly dove onto the ball. Two helmets collided with my leg from both sides.
"I saw 3 different school trainers and they told me I had a deep bone bruise or a muscle strain, so I tried playing in the 2nd half but I was running with a limp so Coach took me out quickly."
He would play in the following week's game vs Lynnwood, but again was unable to finish, prompting a visit to the UW football team physician. The result? A broken Fibula.
"I was held out for four weeks after and was back for our last two games," Harmer said. "I was very limited in both games and hurt my leg again in the last game not finishing the second half. My recovery is going very well.
"It is fully healed now and I am getting the muscles around the bone stronger than ever with rehab and lifting."
Being fully healthy is big for Harmer as he heads into a very important offseason in which he is looking to add weight, but with a very busy schedule, it might be hard.
"I am playing year round baseball for a select program named Rock Creek," Harmer noted. "This will be my fifth year playing for Rock Creek playing middle infield."
Harmer is also the starting shortstop at Interlake and knows one day, he may have to make a decision.
"Right now that is a really difficult question for me," Harmer says. "I love both and play a similar level in both sports. I'm getting more interest from the football side so far, so I'm working hard to take advantage of any of those opportunities."
Time will tell with Harmer, but with his speed, route running and ability to find open space, I find it hard to believe schools wont be making a play at the sure-handed target.
We will see Harmer at the NW Stars Camp on February 27th, and will keep you updated on his progress.