Click for J.J. Jerome Highlights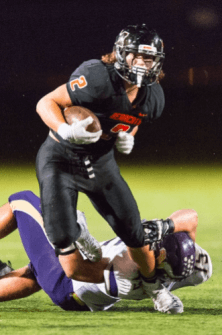 After his second-straight big season for an emerging Monroe (Wa.) program, RB J.J. Jerome should start popping up on some recruiting radars now that the 2017 recruiting cycle is fully underway…
As a junior this past season, while helping to lead the Bearcats to a 7-3 record and the first round of the state playoffs, Jerome totaled over 1,300 yards rushing with 22 touchdowns while hauling in 35 receptions for another 520 yards and six more scores.
"I had a pretty good season, but I feel like I can do more," Jerome said. "We've been building our program and coach (Michael) Bumpus and the rest of the staff have done a good job of keeping us focused on getting better every day.
"We're hitting our workouts hard and I think we will be pretty tough this season, but we have to put the work in this offseason to keep getting better."
Personally, Jerome has set his sights on improving his speed.
"I definitely need to get my speed up," Jerome said. "I want to go to the next level and that's what my coaches say I gotta do to get there."
As far as recruiting is concerned, Jerome attended every Washington home game and he's gotten invites to games at Arizona, Arizona State, Utah, Utah State and Cal.
"Those were all just game invites, not much more," Jerome said. "I am working on getting my film out and I need to get out to camps this spring to show what I can do."
At just over six feet tall and weighing close to 220 pounds, Jerome is the definitely of a big-back. He is a strong runner between the tackles who shows good vision and enough quickness to run away from defenders once he gets into the secondary. He also has soft hands, evidenced by his heavy involvement in Monroe's multi-set passing game.
He should see schools start to stand up and take notice of his talents once they get a closer look at him this spring.