Click for Brian Greene Highlights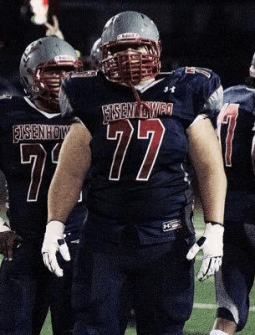 One of the players emerging as an early 2017 target for college coaches this winter is Eisenhower (Yakima, Wa.) OT Brian Greene. Two offers have already rolled in and more could be on the way this spring.
"My offers right now are from Montana and Montana State," Greene told Northwest Elite Index recently. "I have also been getting interest from Arizona, Colorado, Navy and Duke, but they haven't offered me yet."
Greene is a 6'4″, 318-pound road-grader who takes pride in his ability to dominate the man in front of him.
"I am nasty in the trenches," Greene said. "I have a thick frame and I have a pretty high Football I.Q., so I feel like I could play center or guard. It just depends on where I end up and what my team needs me to do.
"At the moment, I would say that I am definitely better as a run-blocker. I just like to maul guys, but I haven't given up a sack in my high school career so I'm good at pass-blocking too."
Since he plays at a program that hasn't produced a lot of top-end talent in recently years, Greene definitely is trying to get out to several camps in the spring and summer, hoping to get his name out there even more than it already is.
"I'm planning to be pretty busy this spring and summer because I know of at least eight camps I want to hit," Greene said. "I'll be going to the Nike Camp (in Eugene, Oregon) and the Rivals and Northwest Elite camps and also the Northwest Stars camp as well.
"I'll also be hitting up Boise State, Washington, Washington State, Colorado, Arizona and Cal and any school that asks me to attend, I will probably hit those too."
While he has just two offers, Greene said he's started to think about when he'd like to make his decision and he's hopeful to get it out of the way before his senior season starts, although he's not committed to that timeframe at this point.
With his size and aggressiveness, Greene is already an emerging star among 2017 linemen in the Pacific Northwest and as he attends more camps and shows what he can do against some of the top pass-rushers in the region, he should see his stock rise even more.
Northwest Elite Index will have more from Greene in the coming weeks and months and we will update news on him as it happens.