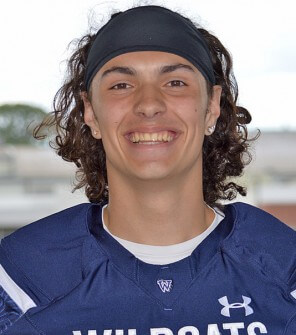 2017 Wilsonville (Or.) QB Connor Neville updated Northwest Elite Index about his offers as well as his plans for this spring and summer.
"I have three offers right now," Neville said recently. "I have Boise State, Washington State and Hawaii so far and the other schools that have been talking to me are Arizona State, Georgia, Memphis, North Carolina State, UCLA and Central Florida."
With the offers and interest, Neville is becoming a hot prospect early in the 2017 recruiting cycle and he said he plans to get out and visit several of the schools that are after him.
"I am trying to make a visit out to Hawaii, but I am not sure if that will happen due to the price (of flights) right now," Neville said. "I am definitely planning visits to Washington State and Boise State, but I don't have a date on when those will happen yet."
As far as camps are concerned, Neville, never one to shy away from competition, has at least four in mind and he might go to more to help his twin brother get some exposure.
"I am pretty sure I will make camps at Arizona State, UCLA, Oregon State and Washington State and probably some other schools that my brother (Jonny) would like to go to," Neville noted.
Last season, while helping to lead his team to a 10-2 record, Neville completed 65.4% of his passes for 3,110 yards with 37 touchdowns and eight interceptions.
With those numbers, he's already got some good film out there, but he knows he still needs improve in almost every area to make himself into the quarterback he knows he can be.
"I'm working on my throwing motion and footwork right now," Neville noted. "I am getting ready for Elite 11 right now, so I'm touching things up — my throwing motion and getting my footwork right."
Neville said he plans to attend the Los Angeles and Oakland Elite 11 events.
Neville has been a touted prospect since he was a seventh grader and the 6'2″, 190 pounder hasn't disappointed.
He has all of the necessary tools to be successful at the next level and he shows outstanding football smarts and the work-ethic to improve and lead his team.
NEI will continue to keep tabs on Neville in the coming weeks and months and we will udpate news on him as it happens.