Click for Salvon Ahmed Highlights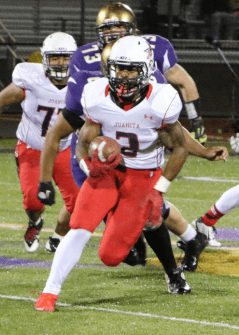 One of the top "skill" position players, not only in the Pacific Northwest, but also the West Coast, is Juanita (Kirkland, Wa.) ATH Salvon Ahmed and he recently took a visit to one of his top suitors and he's also started to map out some travel plans for this spring and summer.
Ahmed recently visited Washington, sitting down with both head coach Chris Petersen as well as running backs coach Keith Bhonapha.
"It wasn't really that big of a deal. I just wanted to go up and show (new teammate) Isaiah (Eubanks) around so he can see Washington and what it's all about," Ahmed told Northwest Elite Index. "We just got a tour of the campus and we got to sit down with coach Pete in his office and coach 'B' was in there too.
"We just talked about how things are going and how excited they are for this upcoming season.
"They didn't really pressure me, but they let me know they want me to come and be part of the program there and they said they like me a lot."
The talented prospect is a standout on both sides of the ball for the Rebels, finishing with over 2,000 yards of offense while scoring close to 30 touchdowns and he also had 45 tackles and four interceptions on the defensive side of the ball, and Washington has told Ahmed they can see him playing multiple positions.
"They said they can see me almost anywhere — receiver, running back, defensive back — so they just said they want to get me into the program and then they'd figure out different ways to use me," Ahmed noted. "Honestly, I really don't care where I play, I just want to play, so I like it that they can see me in different roles."
Ahmed currently holds 10 offers with his latest coming from Cal last week.
He's also been talking a lot with Notre Dame and LSU and hopes to take trips to both schools this spring or summer along with a trip to Stanford as well.
"Stanford really wants to get me down there, so I'm looking at times when I can get down there to meet with the coaches," Ahmed said. "Notre Dame hasn't offered yet, but they want to get me over there and I'm hoping that they offer me. That would be pretty cool.
"LSU has also been talking to me, but I don't know how close they are to offering. I'd love to see that campus though."
When it comes to setting a timetable for a decision, Ahmed has not committed to a date yet, but said he expects to take things all the way until the end of his senior season and he's hopeful that he can make his announcement to the world at the Army All-American Game the first weekend of January, but he still needs to get an invite.
"That's always been one of my goals and I'm hoping I get the chance to make my decision there, but if not, then I will probably just wait until the end of my season and then make my decision," Ahmed acknowledged.
We'll have more on Ahmed over the next few months as he gets deeper into the recruiting process and begins to set up some visits.